Commonly Asked Questions About Gold Loan
Gold loans are secured loans where your gold jewellery is used as collateral. Gold loan are easily available but it is advisable to have some prior knowledge before opting for a loan.
21 Sep,2022
10:46 IST
8 views
5 Likes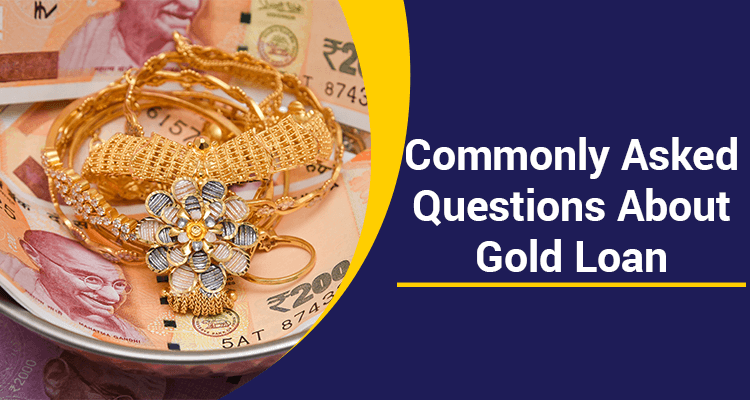 A gold loan is a secured loan that a borrower takes from a bank or a non-banking financial institution by keeping gold jewellery as a collateral. The amount approved by the lender depends on the purity and weight of the gold kept as collateral. Most lenders offer a gold loan with a value of up to 75% of the current market price of gold.
Gold loans are easily available from banks and non-banking financial companies (NBFCs). But it is good to have some prior knowledge and be well-informed about the nitty-gritties that can make borrowing an easy experience.
Who Is Eligible To Get A Gold Loan?
Anyone who has gold jewellery or coins can take a gold loan. Generally, the applicant should be in the age group of 18 years to 60 years.
Credit scores are not critical for gold loans. Hence, people with low credit scores can avail gold loan provided they have gold jewellery to pledge.
What Documents Are Needed To Get A Gold Loan?
Borrowers must submit an application form, a passport-sized photo, an identity proof (PAN card/ voter ID card/ Aadhaar card) and an address proof (passport/ driving license/ electricity bill) to get a loan.
What Is The Interest Rate On Gold Loan?
The rate of interest varies widely. It could range from less than 10% to more than 25%. Most lenders provide an online calculator to help borrowers calculate the interest they would have to pay.
Borrowers are also charged a processing fee ranging from 1% to 2.5% of the loan amount. Some lenders may levy additional charges, such as prepayment and loan foreclosure charges.
What Is The Maximum Amount That Can Be Availed?
Gold loans are usually given from Rs 1,000 to as high as Rs 1 crore or more, depending on the lender as well as the eligibility criteria of the borrower.
Do Banks Need A Guarantor Or Co-Signer To Approve A Loan?
Most banks do not require a guarantor or a co-applicant when applying for gold loan.
What Are The Repayment Options?
Gold loans can be paid back through EMIs via any medium like cash, cheque, demand draft or online transfer.
A gold loan can be repaid partially at any point in time, though some banks may have some lock-in period. The total outstanding amount can be returned before the end of the loan tenor but lenders charge 0%-3% foreclosure fees.
What Happens If One Fails To Repay?
Missing a repayment on time can affect the credit score negatively. Further, banks may also levy a penalty charge and it is higher than the rate of interest. Usually, it is between 1% and 6%.
In case of a default, the lender sends a notice with a stipulated due date within which all the dues are to be cleared. If the borrower still fails to pay, the lender starts a process to auction the gold to recover the due amount.
How Can The Pledged Gold Be Reclaimed?
A borrower can release the pledged gold after repaying the loan. Most banks release the gold jewellery only after the entire outstanding amount is repaid. But some financial institutions allow the borrower to release some gold corresponding to the value of the loan they have paid back.
Conclusion
People who need money for the short term can opt for a gold loan if they have gold jewellery lying unutilized. Gold loans are approved quickly and can be taken at a lower interest rate than other forms of debt such as credit cards or personal loans. Significantly, people with weak credit scores can also get a gold loan as long as they have gold jewellery to pledge.