Commonly Asked Questions About Gold Loan
Gold loans are safe, but you should know every aspect before getting one. Read to know the frequently asked questions regarding gold loan.
3 Nov,2022
11:32 IST
3 views
6 Likes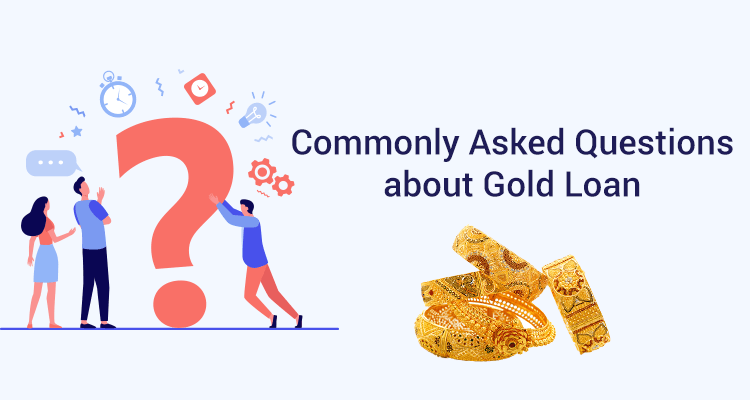 A gold loan is a secured loan taken from a bank or a non-banking financial institution by pledging gold jewellery. The purity and weight of the gold held as collateral determine the amount that the lender will sanction. Most lenders provide gold loans for up to 75% of the yellow metal's prevailing market price.
It is simple to obtain gold loans from banks and non-banking financial companies (NBFCs). However, it is good to be knowledgeable about the specifics that can make borrowing convenient.
What Documents Do You Need For A Gold Loan?
Borrowers must submit an application form, a passport-sized photo, identification documentation (PAN card, voter ID card, or Aadhaar card), and proof of their address (passport, driver's license, or electricity/gas bill).
Who Is Eligible For A Gold Loan?
Anyone with gold jewellery can apply for a gold loan. Some banks also approve loans against gold coins they themselves may have issued. The applicant should typically fall between the ages of 18 and 60 years.
For gold loans, credit scores are not essential. As a result, people with bad credit can apply for a gold loan if they have gold jewellery to put up as collateral.
Is There A Need Of A Guarantor or A Co-Signer To Approve A Loan?
Lenders typically do not require a guarantor or a co-applicant for gold loan.
What Is The Interest Rate On Gold Loan?
The interest rate varies from 8% to as high as 25%, depending on the lender, prevalent interest rate of the banking system, and the amount borrowed.
There could also be a processing fee of 1% to 2.5% of the loan amount. Some lenders could demand extra fees for prepayment and loan foreclosure.
What Is The Maximum and Minimum Amount That Can Be Availed?
As there is a collateral involved, there is no bar on the amount that can be taken as loan. The loan can be as low as Rs 1,000 to as high as Rs 1 crore, depending on the lender and the eligibility criteria of the borrower.
What Happens If One Fails To Repay?
The credit score may suffer if a payment is not made on time. Additionally, banks have the authority to charge a penalty fee ranging from 1% to 6%.
In the event of a default, the lender notifies the borrower and specifies a deadline for payment of all outstanding debts. If the borrower continues to default, the lender starts a procedure to auction the gold to recoup the debt.
How Can The Pledged Gold Be Reclaimed?
After paying back the loan, the gold can be released. Most banks won't release the gold jewellery until the whole amount owed has been paid. However, some lenders agree to release a certain amount of gold in exchange for the amount that has been repaid.
What Are The Repayment Options?
Cash, cheques, demand drafts, money orders, and internet transfers are all acceptable methods of repayment for gold loans through EMIs.
Although some banks may have a lock-in period, a gold loan can be partially returned at any time. The entire amount owed may be paid off before the loan's term expires, but lenders charge 0% to 3% in foreclosure fees.
Conclusion
If a person needs money for the short term, it makes sense to take a gold loan. Compared to other debt options like credit cards or personal loans, gold loans can be taken out faster and at a lower interest rate. Importantly, as long as they have gold jewellery to pledge, persons with bad credit can still acquire a gold loan.