Impact Of CIBIL Score On Personal Loans
A certain minimum or ideal CIBIL score is necessary in order to avail personal loan. Get to know how cibil score impact your loan here!
26 Aug,2022
12:29 IST
13 views
3 Likes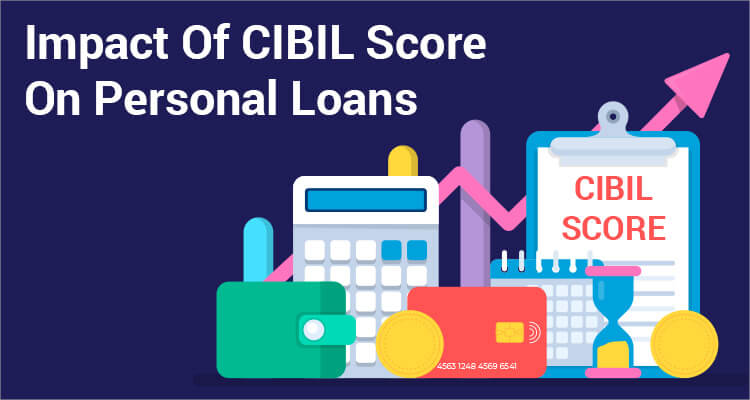 A personal loan is a popular funding option for millions of people since it allows the borrowers the freedom to use the money for any purpose. But a loan is a liability and it's important to keep the cost of the loan as low as possible.
A competitive interest rate from the lender, especially on higher loan amounts, can ease the debt burden to a great extent. However, to ensure you get a low interest rate, a good CIBIL score is a prerequisite.
CIBIL Score
The CIBIL score, or the credit score, is issued by credit information bureaus. It is a three-digit number that represents a person's debt repayment ability based on past credit behaviour. Before granting any loan, especially personal loans of unsecured nature, lenders take a close look at the credit score of the applicant.
A CIBIL score has a great impact on an individual's eligibility for a personal loan in the following ways:
• Pre-Approved Loans:
Many lenders offer pre-approved loans to individuals with high credit scores. It means that the lender has already evaluated the individual's creditworthiness and is ready to offer instant loans.
• Rapid Approval:
For applicants with a high credit score of 750 and above, lenders usually take less time to approve the loan application. A positive repayment behaviour that gets replicated through the credit score assures the lender about the creditworthiness of the individual and helps in making quick approval decisions.
• Lower Interest Rates:
The interest rate on personal loans varies from lender to lender. A high credit score allows applicants to negotiate for lower rates and also seek waiver of processing fees.
• Sanctioned Amount:
The final loan amount approved by the lender is based on the applicant's credit history. A good CIBIL score increases the possibility of the lender approving a higher amount.
• Longer Tenor:
A high credit score can convince the lenders of a longer repayment tenor of the loan. This helps borrowers keep their EMIs manageable and repay the loan without much strain.
Errors In CIBIL Score
Applicants must be especially careful about errors in credit score. While for some it can be due to an account summary of less than six months, for a few others it can be due to a miscalculation of the credit rating company.
However, for individuals with no credit card or loan, the credit score is 0 or -1 because of insufficient data available to the credit bureau to predict the repayment behaviour.
Conclusion
The CIBIL score is assuming greater importance in the Indian financial market. Most lenders require a minimum credit score of 750 or more to be eligible for a personal loan.
A low CIBIL score can be a concern for borrowers. While for some it can result in a less loan amount offered at higher interest rates, for many others it can even result in loan rejection. Since a low score can ruin financial planning, it is necessary to take corrective measures and ensure we have a good credit score.