Major Challenges Faced By The MSME Sector & Their Impacts
Micro, Small and Medium Enterprises (MSMEs) are important part of economy due to their contribution towards economy growth, employment generation and etc. Read to know about the MSME problems and their impacts.
9 Nov,2022
12:12 IST
7378 Views
11 Likes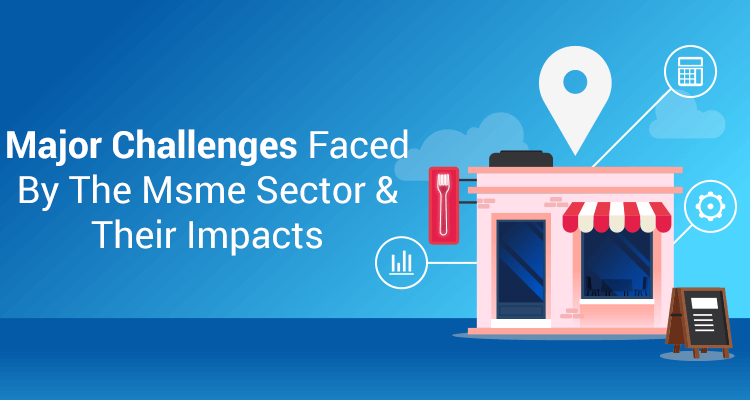 Micro, Small and Medium Enterprises (MSMEs) are considered pillars of the Indian economy due to their considerable contribution to the economy, exports and employment generation. Businesses in these sectors are responsible for most jobs created in the country and contribute significantly to economic growth.
MSME growth has been tremendous in India in the past few years, and its growth potential is enormous. However, despite their potential, these businesses face challenges.
MSME Sector Challenges
The following are a few primary challenges facing MSMEs that affect their growth prospects.
1. Financial Issues
MSMEs in India face many challenges due to a lack of finance. Most MSME owners come from rural and education-deprived areas, and their ignorance of government benefits makes them unaware of their special financial privileges. Their carelessness leads them to make bad financial decisions, causing financial difficulties.
Furthermore, MSME firms in India are typically less creditworthy than their larger counterparts. As MSMEs have no assets to surrender as collateral, lenders cannot analyse or know whether they can repay their loans.
2. Skills
Since Indian MSMEs depend heavily on informal workers who are often underpaid and lack the technical skills necessary to boost productivity, Indian MSMEs are far behind their counterparts in other countries. In the long run, this impacts the growth prospects of smaller firms by making them take on jobs requiring limited skill and expertise.
3. Marketing and Managerial-Related Challenges
MSME growth remains a significant hurdle due to the absence of entrepreneurial, managerial, and marketing skills. Boosting sales and acquiring new customers requires the right marketing strategies. Additionally, MSMEs face challenges related to ineffective marketing strategies, lack of market analysis, and identifying target audiences in India. Thus, MSMEs cannot compete due to a lack of professionalism and structured management.
Furthermore, a lack of education, knowledge about market trends, consumer preferences, and advanced technology has hindered the development of this sector.
4. Technology Remains A Primary Deterrent
Due to a lack of expertise and awareness, most businesses miss out on the latest technological developments. To grow their businesses, MSMEs must keep up with the changing trends in technology.
5. Labour-Related Challenges
A successful manufacturing enterprise depends on skilled labour. Many inconsistencies exist in MSMEs regarding skilled personnel and complying with labour laws. The lack of affordable skilled labour further compounds MSMEs' woes.
While MSME firms face numerous challenges, the government strives to make this sector more competitive. There is a gradual decrease in funding costs while the public and private sectors strive to develop more competitive products.
FAQs
Q1. What is the difference between MSMEs and other businesses?
Ans. Compared to larger firms, MSMEs have fewer employees. MSMEs tend to focus more on low-value activities common to daily life rather than high-value activities that are more productive for larger firms.
Q2. Which are the issues facing MSMEs?
Ans. Many Indian MSMEs face notable challenges, such as operating underground, having poor working conditions, lacking skills, dealing with scams, and low productivity.