How Business Registration Helps In Faster Loan Approvals
Business loans can come handy for any businesses to work efficiently. Does Business registration help with loan approvals? Read to find out how.
16 Nov,2022
18:18 IST
5 Views
20 Likes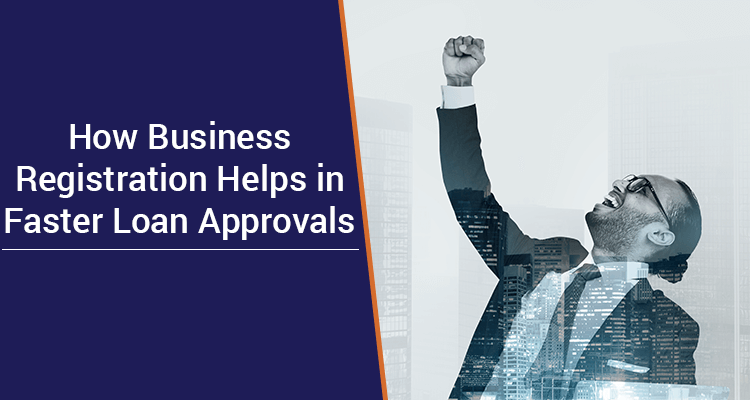 Running a business has two main aspects: managing day-to-day affairs and planning for the future. The necessary ingredient for both these aspects is financial resources in the form of equity and debt. Prudent financial management requires a business owner to keep a balance between the two forms of capital. This means that even if one has access to adequate equity capital, one should look at having some debt on the balance sheet.
That said, debt can be in various forms. A business owner can even pledge personal and family gold ornaments to take a gold loan or can even take out a personal loan for a small sum to meet a requirement for the business.
However, the right debt product for a small business establishment is a business loan.
Requirements For A Business Loan
• Vintage:
Most lenders insist on the establishment being in operations for at least six months though others require the borrower to have a longer age to qualify for a business loan.
• Incorporation:
By default, lenders also ask for legal incorporation or registration of a business. In the absence of registration, the business owner would only be able to avail a personal loan or some other secured loan to borrow at a personal level to finance the enterprise.
• Size:
Depending on the size of the business loan planned, lenders may also insist on a GST registration certificate. This provides a legal formal proof that the enterprise is not just a shell entity and is, in fact, under the tax net. This provides an assurance that the venture is part of the formal economy.
Notably, even if one is taking a business loan, the lenders do still check the credit score or creditworthiness of the business owner. But that does not take away the importance of having a registered business. This is also critical as lenders do not finance business ideas but actually operating enterprises.
How Business Registration Helps
• Quick Loan Disbursal:
A business that is registered with the authorities is a basic requirement to sanction a business loan quickly.
• Credibility:
Registration adds a layer of credibility of a formal legal venture. This is also important for vendor registration and many product or service clients would need it to become a paying customer.
• Tax Benefit:
Business registration is a first step to get a GST number. This, in turn, is required for claiming input tax credit for taxes paid for any product or service purchased by the enterprise.
Conclusion
Registration of a business venture lends authenticity and credibility to an enterprise. This not only separates the personal assets and liabilities of a business owner from the venture but also has added benefits.
The most important aspect is the tax benefit via the input tax credit that can be claimed only with GST certification that itself requires a business to be registered. In addition, a business loan, an essential part of financial planning, requires a borrower to be a registered legal entity for quick approval of the loan application and loan disbursal.