Business Loan For Doctors
Business loan can be used by any individual who want to start or expand their business. Business loan can be useful for doctors who want to start their own medical practice. Read to know more.
2 Nov,2022
06:25 IST
7 Views
5 Likes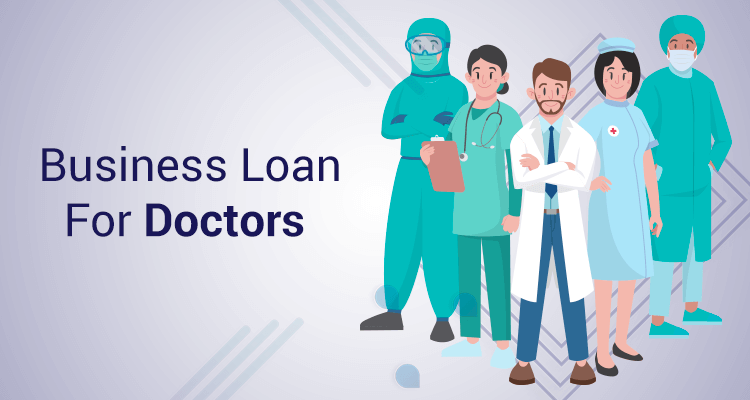 A hospital or clinic equipped with the most cutting-edge medical equipment and one or more qualified doctors and medical practitioners are the two fundamental components of a successful healthcare practice.
A doctor or a group of doctors who want to launch their own medical practice will require a sizeable amount of finance to launch their business. Additionally, they might not have that much cash on hand to launch a new company and maintain it during the early stages until cash flows start to materialise.
A business loan may prove useful in this situation. A business loan can assist doctors in starting their own practice, as well as support them with working capital needs, pay employees, and purchase new equipment.
Highlights Of Business Loan
Less Paperwork:
As long as the doctor has a strong credit history and good credit, a business loan for a medical practice requires little documentation.
No Collateral:
Typically, a small-ticket business loan does not require collateral, thus the doctor is not required to put up any assets or real estate as security. For the borrower, who might be a young doctor just starting their career and may not have much collateral to guarantee, this could be a blessing.
Repayment Options:
Most reputable lenders provide borrowers with flexible repayment choices that let them pay back the principal and interest at a rate that works for their company's cash flow. As a result, they won't have to worry about debt repayment and can instead concentrate on expanding their medical business.
Flexi Loans:
The flexi loan option is available to doctors, who can choose to borrow only the amount they actually need and pay it back over time. In this situation, the doctor only pays interest on the amount that has actually been borrowed and not on the complete sanctioned amount. The remaining amount is, therefore, accessible to be borrowed in case of future necessity.
End-Use Freedom:
Doctors can utilise a business loan for capital expenditures to buy expensive equipment, such as MRI machines, as well as working capital costs to cover things like paying staff salaries and vendor bills.
Beneficial Interest Rate:
Most banks and non-bank lenders are willing to offer money to doctors seeking business loans at competitive interest rates as long as they have a strong credit history. This is particularly true if the borrower has a strong academic background and graduated from a reputable medical programme in India or abroad.
Conclusion
If you're a young physician planning to launch your own medical practice, a business loan can be quite helpful in the initial stage. Along with helping you buy the most up-to-date medical equipment, it will also enable you to finance the day-to-day operations of the company till cash flows stabilise.
Since there is a sizable market for business loans, it would be better for you to approach a reputable, long-standing lender. A reputable lender will have standard operating procedures in place to make borrowing money and paying it back easy and hassle-free.