Benefits Of Taking A Gold Loan In 2022
A gold loan uses gold as collateral and is a type of secured loan. Gold loan helps to raise money quickly at the time of emergency. Read to know more about the benefits of taking a gold loan.
15 Sep,2022
09:57 IST
7 Views
6 Likes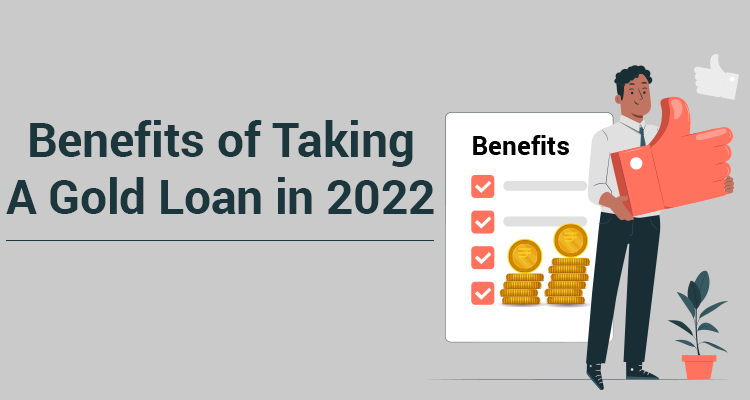 Historically, gold has been considered a stable asset during market volatility and economic uncertainty. Therefore, it's no surprise that it's often used as collateral when people need cash quickly and fail to receive approval for other loans. Taking a gold loan far outweighs the disadvantages, especially in 2022, when you have multiple repayment options based on your financial standing.
Minimal Documentation Or Fees
Unlike traditional loans, gold loans do not require extensive documentation or credit checks to sanction the amount. They require basic information, like personal details and the value of the gold you wish to pledge as collateral. Additionally, there are no minimal to no processing fees or foreclosure charges.
Quick Disbursal
To diversify your investment portfolio, you can get loans on immediate delivery. However, if the gold you have stored is worth more than the loan amount, you can take a loan of a higher amount. This way, you have more liquidity for emergency expenses such as medical bills or car repairs. If the price of gold rises after you take out the loan, it could also turn into an asset when it comes time to pay off the debt.
Repayment Terms And Conditions Are Flexible
The gold loan repayment terms and conditions are flexible. For example, if you can repay the loan early with no penalties, you can save on interest charges. If you can not repay on time, there will be an extension until the full payment. However, the lender does charge an additional fee for late payments.
Low Interest Rates
Different types of loans will have diverse APRs (annual percentage rates), which estimate how much the borrower pays for the credit use over one year. Interest on gold loans is typically lower than other types of personal loans, like home equity or auto financing.
Financial Emergencies
Because gold loan interest rates are low, taking out a gold loan is one way to get instant cash without giving up any future potential upside. The interest rates on gold loans start at approximately 10%. But, if you have the discipline to repay your loan at the end of the term, you can avoid all those finance charges and keep more of your gold in hand. In addition, when inflation inevitably goes back up, your original loan value will fall.
With rising costs, a gold loan can be the ideal avenue during a cash crunch or any other economic emergency. However, to identify the value of your gold to acquire a loan, use the gold loan calculator online–on the lender's website–to determine the eligible loan amount, interest rate, and the EMI you need to pay.
FAQs:
Q.1: What is the typical tenure of the gold loan?
Ans: The term ranges from lender to lender, but it may be between six months to three years.
Q.2: Who can advise me on how to structure my finances, so I'm eligible for a gold loan?
Ans: Talk to your financial advisor about what you are trying to accomplish and whether or not it is possible. They will be able to help you understand if this type of investment would be beneficial.