Benefits Of Getting A GST Business Loan
Business loan can be very important for businesses to meet their unexpected capital needs and run their day-to-day operations smoothly. Read to know what are the benefits of getting a GST business loan.
2 Nov,2022
12:13 IST
7 views
2 Likes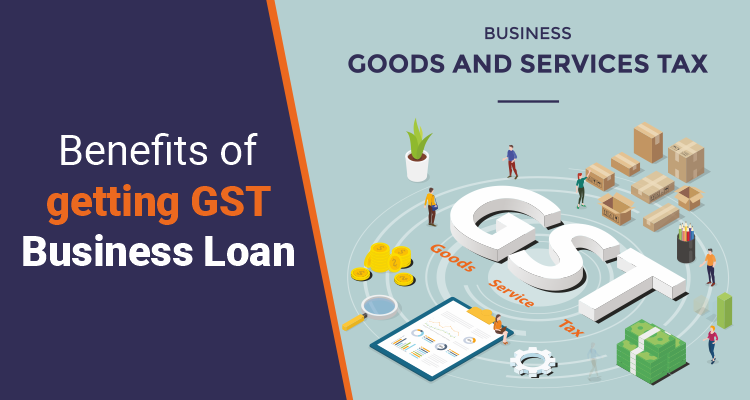 India implemented a new indirect tax regime—Goods and Services Tax (GST)—in July 2017. This system replaced several state and central taxes. All commercial entities, above a certain threshold of income, must deposit GST and submit GST returns on a regular basis under the new system.
Filing GST returns not only keeps the tax authorities at bay but can also help a business entity avail a loan from a bank or non-banking finance company to sustain or grow its operations.
A GST business loan, also known as a GST loan, is an unsecured business loan in which the creditworthiness of the borrower is dependent on the GST reports that the borrower has submitted.
How GST Business Loan Works
A business owner typically doesn't need to provide any additional documentation in order to apply for a GST business loan because the lender may obtain all the necessary information from the filed GST returns. This streamlines and simplifies the application process.
The main distinction between a GST business loan and a regular business loan is that in this situation, the enterprise's GST returns serve as the foundation for the loan application. Apart from this, a GST business loan performs quite similarly to a standard business loan.
The fundamental document that is considered in a GST business loan is the GST return filed, as opposed to a non-GST business loan where the lender normally looks at the financial statements of a company.
Similar to a regular business loan, a GST business loan also has to be paid back in full, plus interest, within the allotted time frame.
Benefits Of GST Business Loan
No Collateral:
With a GST business loan, a company can borrow money without having to commit any assets as collateral. For a small firm, which may not have any collateral to provide given its size and cash flow situation, this can be a smart option.
Less Documentation:
All that is necessary is the most recent GST return invoice, the company incorporation certificate, and a form of address verification, such as the owner's Aadhaar number, a voter ID, or a driver's licence. In addition, the properly completed application form and the business's PAN number are also needed for a loan.
Quick Money:
The bare-minimum paperwork required means that a lender can quickly approve and issue a GST business loan because all they need to check is the borrower's GST returns.
Freedom Of Use:
Any business purpose may be funded by a GST business loan, and the lender will not inquire into the borrower's motivations. They only need to look at the GST returns, which ought to have been submitted on time and accurately.
Conclusion
A GST business loan can be used for a variety of things, including fulfilling working capital needs, paying employees, purchasing supplies or equipment, or any other business-related purpose.
If you have been timely filing your GST returns and do not immediately have access to all the financial records pertaining to your firm, you are still eligible for the loan.
A GST business loan can satisfy the financial requirements for many small enterprises that find it difficult to obtain a standard business loan.