Atal Innovation Mission: Functions, Activities, Achievements, ARISE
The Atal Innovation Mission supports the development of a proper scientific ecosystem. Want to know everything about Atal Innovation Mission. Read Now.
30 Dec,2022
10:18 IST
7 Views
141 Likes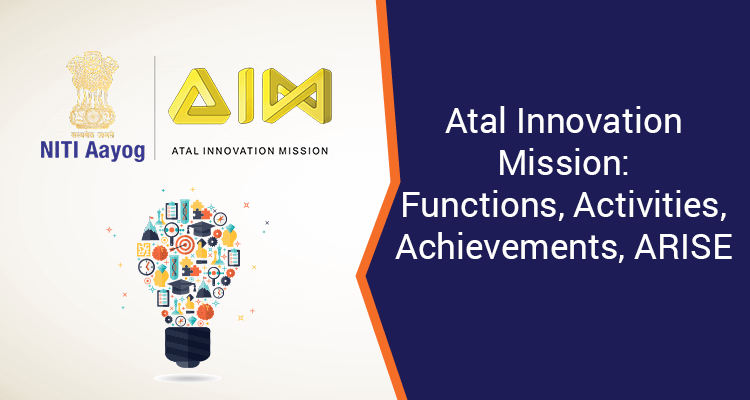 The Atal Innovation Mission is a scheme of the government of India to promote innovation and entrepreneurship. NITI Aayog was entrusted to set up the Atal Innovation Mission.
The objective of the mission is to provide a platform for researchers, academicians, and entrepreneurs for innovation and research at school, university, research institutions, MSMEs and industry levels.
Functions
The Atal Innovation Mission has two main functions:
• Encouraging innovators to become entrepreneurs
• Promote innovation
Activities
The Atal Innovation Mission conducts its activities through the following programmes:
1. Atal Tinkering Labs:
These labs have been set up in schools to enhance skills among students related to design, physical computing, computation thoughts, and adaptive learning. The labs are equipped with modern kits and equipment such as computers, robotics, sensors, and Internet of things. It encourages students and teachers to undertake on-ground activities and identify problems faced by local communities.
2. Atal Incubation Centers:
These centers would help universities, small and medium enterprises, non-government organisations, and corporate houses to develop sustainable and scalable new ventures. The new startups would help to create more job opportunities and provide a globally applicable social and commercial model.
3. Mentor India:
A mentor network has been set up called Mentor India comprising professionals and experts from the industry to guide students at the Atal Tinkering Labs and Atal Incubation Centers. The Mission is also forging partnerships with other countries to collaborate and work for innovative solutions.
4. Atal New India Challenge:
The objective is to promote tech innovations and assess its impact on a social and commercial sphere. It incentivises research and promotes creation of products required for social causes. Companies organise challenges in energy, hygiene, water, health, and housing areas.
5. Atal Community Innovation Centre:
The main objective is to spur growth in the backward or unserved areas of tier-1, 2, and 3 cities, northeast states, and tribal and rural areas to encourage community innovation. The central aim of the innovation center is to provide financial support to unique ideas and solutions to ensure the development of such innovations among students, researchers and generate jobs.
6. Atal Research and Innovation For Small Enterprises (ARISE):
This initiative aims to spur research, innovation, and competitive spirit among start-ups, MSMEs and find sustainable solutions to various sectoral problems. Various ministries purchase the idea for the finder under the ARISE programme. It will help in identifying, funding, mentoring, and procuring solutions from Indian enterprises. The objective is to inculcate research in areas such as import substitution, enhancing exports, indigenous solutions to local problems.
7. Vernacular Innovation Programme:
The programme is designed to lower the language barrier for vernacular innovators when learning design thinking and entrepreneurship, accessing markets, attracting investments, and influencing innovation policy. A Vernacular Task Force in each language has been formed for creating necessary resources and the ecosystem. The task force will learn, contextualise, implement and translate the design thinking and entrepreneurship concept in their respective languages.
Achievements Of Atal Innovation Mission
• About 2,900 startups have been incubated, of which 900 are by women, across 69 incubation centers, thereby creating 32,000 jobs.
• Nearly 10,000 Atal Tinkering Labs have been set up across 722 districts, providing access to over 75 lakh students, and about 12 lakh innovation projects have been created.
• About 5,800 mentors have on-boarded the programme.
• More than 350 collaborations have been established to help the country's innovation ecosystem grow.
• In conjunction with the mission, the NASSCOM has produced an artificial intelligence-based teaching module for students.
Conclusion
The Atal Innovation Mission targets innovators and researchers right from schools and entrepreneurs from the universities. The focus areas under the mission are education, railways, health, agriculture, green energy, and water, among others. The government hopes the Atal Innovation Mission will go a long way in promoting research, innovation and sustainability in the country.