Are You Storing Your Gold Correctly?
Owning gold is one thing but when it comes to storing them, it can be a totally different scenario. Want to know the correct ways to store your gold. Read Now.
16 Dec,2022
11:33 IST
5 Views
1 Like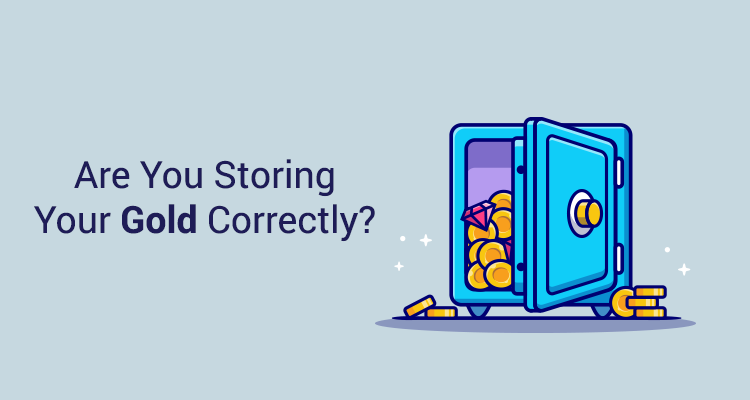 People buy previous metals such as gold both as an investment and for use as jewellery. Typically, gold is the costliest item in most households, making their safe storage important for all.
While we work hard to buy gold so that we can use it in times of need, we should also work equally hard to keep these precious belongings safe and secure. Here are some tips to store the gold safely.
Be Aware Of How Much Gold You Have
Since gold is usually in the form of jewellery, it is important to know how much gold you have and in what form. Many a time, people find out about the small missing items such as gold earring or a ring after a long time, as these are easy to misplace and even easier to pinch for thieves. So, make sure you have made a note of each and every piece of gold jewellery in the house.
Don't Flaunt
Avoid talking about your jewellery or gold collection in public, especially on social media. Also avoid posting your pictures with heavy gold jewellery on social media. Robbers are always on a lookout for wealthy households to steal. This does not mean not telling anyone else about your gold. But make sure you tell only the people who really care about you and in whom you have complete trust.
Multiple Locations
Never put all your eggs in one basket and never store all your gold in one location. Always have at least two, if not more, places to keep your precious jewellery.
Professional Vault Storage
Many banks and other companies offer professional services for vault storage. These vaults can be used to keep anything including gold and gold jewellery. They offer one of the safest ways to keep your worries at bay and your gold secure.
Multiple Safes
Have more than one safe at home and keep the least amount of jewellery in the safe that is most visible. This could make the burglars think that the person has only little gold.
Grandmother's Recipe
Never keep the most precious items in the most obvious places. Remember how in the olden days people used to hide things in nooks and corners of the house. This still holds true. Think like a thief. Imagine places that may be difficult to locate in case of a burglary.
Security System
Have a good security system for the house including cameras and alarms. Don't think of a security system as expenses but as an investment to keep your valuables safe. The security system will also warn the robbers that any theft won't go unnoticed. It will also help police track robbers fast in case of any unfortunate incident.
Conclusion
Gold is one of the rare items that can be used as jewellery and whose value usually rises with time. But being easy to dispose, it is also one of the favourite of robbers across the world. If we were to become victim of such a robbery we can lose all our hard-earned money in just one day. Hence, it is important that we store our gold securely.