Apply Personal Loan For Higher Education Online
Need loan for higher education? Personal loan can be one of the option to finance your higher education. Read to know how to apply personal loan online.
29 Sep,2022
11:55 IST
12 views
23 Likes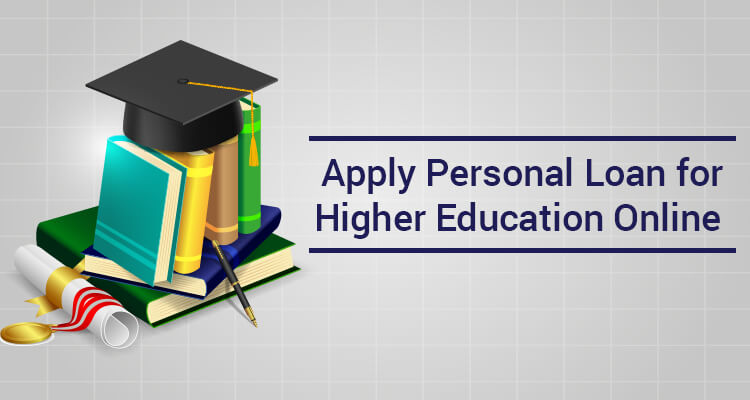 Applying for an education loan is a popular option to finance higher education. However, when this type of loan exceeds a specific limit, lenders may require you to fund a significant part of the tuition fees. Additionally, you might not be able to use the funds for anything other than tuition, such as travel, housing, and other necessities. An online personal loan could be a better solution in such cases.
This blog discusses how to apply for a personal loan for higher education online.
Requirements To Get A Personal Loan For Students Online
Follow these steps to qualify for a personal loan for higher education online.
1. Maintain A Good Credit Score
You must have a credit score of 750 or higher to get approved for a personal loan quickly. In the case of poor credit, you can apply with a co-applicant or guarantor.
2. Meet The Eligibility Terms
You must meet all the lender's requirements to qualify for the loan. Some of the terms include your age limit and income requirements. Students without a stable income may apply with their working parents as co-applicant or guarantors.
3. Get The Documents In Order
Before applying for a personal loan, collect all the necessary paperwork, including KYC documents, employee identifications, and the last two months' pay slips. Customers who are pre-approved or already have an account may not need to provide all the documents listed by the lender.
How To Apply For A Personal Loan For Higher Education Online
Here's the step-by-step process on how to apply for a personal loan online.
1. Visit the lender's official website or download their mobile app.
2. Choose Personal Loan from the loans section.
3. Select 'Apply Now'.
4. Fill out the personal information form and submit it.
5. Upon reviewing your details, the lender will contact you or send you an SMS.
6. The lender may require you to upload documents or request a document pickup.
7. Lenders will disburse loan amounts into your registered bank account as soon as the loan is approved.
Things To Remember Before Applying For A Personal Loan For Higher Education
Follow the tips below to ensure a smooth personal loan application process.
• Determine/Identify Your Expenses:
The cost of higher education can be high. With a loan, tuition fees aren't the only expenses to consider. There are other costs, such as travel expenses, accommodation, and study materials. This exercise will allow you to estimate the loan amount accurately.
• Choose A Suitable Tenure:
You can choose the repayment tenure when you avail of personal loans. The tenure of a loan determines your EMI payment. Choose a duration that fits your finances or that of your parents.
• Check The Interest Rate:
Make sure you compare interest rates before choosing a lender. It will help you find a favourable interest rate on an affordable loan deal.
FAQs
Q1. What are the documents required for a personal loan for higher education?
Ans. A personal loan approval process may require you to provide ID, proof of address, and income proof.
Q2. What is the age limit to get a personal loan?
Ans. The age requirement for obtaining a personal loan is 21 years to 60 years old.