How To Get A Personal Loan For Abroad Studies
A borrower can use a personal loan to pay for any family member's education. Read on to know how to apply for a personal loan for abroad studies.
10 Oct,2022
12:23 IST
3 views
26 Likes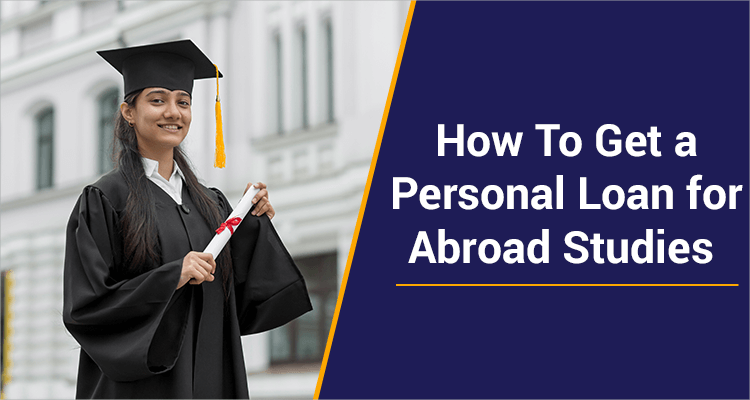 Education courses abroad have become a favourite with students in India. These courses, however, are costly, leading to most parents seeking education loans for their wards.
Education loans have the advantage of lower interest rates and the repayments start a few months after the completion of the course for which the debt was taken. The caveat is that these loans are not so easy to get and funding foreign education through savings may not be easy either.
But there are ways to still fund foreign education without breaking the fixed deposits or selling family silver. Personal loans can help give wings to your dream of foreign education. On the flip side, personal loans will have higher interest rates than education loans and the repayment will start almost immediately, but they do have a few advantages.
Collateral-Free:
Personal loans usually are collateral-free, making them easier to get for a person who doesn't have assets such as property or gold.
Freedom Of End Use:
Education loans can only be used to pay fees for the course and may not include expenses such as food, stay, air travels etc. With personal loans one can cover all these and in proportion that they desire.
Education And Job:
Many students have to come back after study if they don't find a job and don't have means to sustain abroad after completing their courses. Education loans don't cover these stay-overs. With personal loans one can stay back and find a job at their own pace.
Faster Approval And Disbursement:
Personal loans can be availed within days and with minimal documentation, helping a student get a jumpstart into their foreign courses.
Co-Funding:
Most education loans require students to cover a part of their fees. However, in personal loans there is no such criteria and one can cover not just the full fees but other allied expenses, too. Many lenders in India offer a personal loan for studies in a range of Rs 25-50 lakh. The applicant's age, income, employment status, repayment history, and credit score are examined by the lenders for the loan amount.
The principal, interest rate, and length of loan repayment all play a role in determining the equated monthly installments (EMI). Following factors need to be taken into account when one avails a personal loan for studies abroad:
Interest rate:
Approach as many lenders as possible and take the loan from the one giving the most favourable interest rate and repayment terms. In case of a personal loan for studying abroad it is advisable to have a longer repayment tenure so that you can help with EMIs after getting a job.
Amount:
Applicants must accurately estimate all expenses, including those for travel, stay, coaching, and study materials, etc. It is advised to do the calculation based on the cost of living in that nation. Also, borrowers must take into account the average inflation in the country of study so that more loans are not needed.
Conclusion
While an education loan will offer a lower interest rate for studying abroad, it may elude a student or parents due to a low credit score, need for collateral and higher scrutiny of documentation.
Personal loans, on the other hand, will be easier to take out and offer ease of end use as well as flexible repayment options.