Aadhaar And Business Loans How They Are Connected
Many financial institutions use Aadhar card as an important document for verifying individual's identity. Read to know how is aadhaar card connected to business loan.
17 Nov,2022
11:41 IST
2 views
1 Like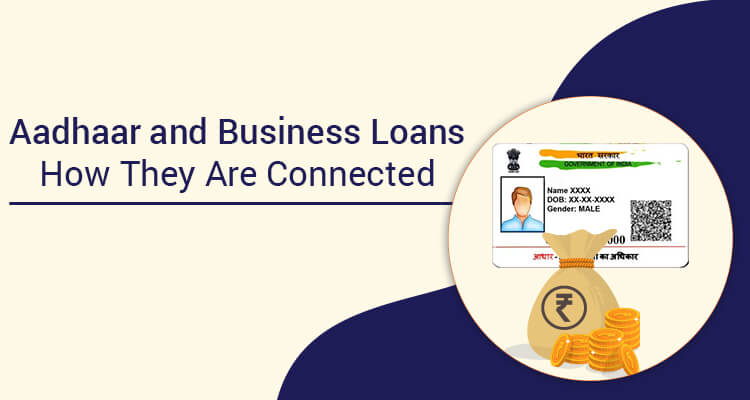 An Aadhaar card is a powerful identity proof with a unique identification number for every card owner. Issued by the Unique Identification Authority of India, the 12-digit Aadhaar number ensures exclusiveness of identity through biometric records of fingerprints and iris scans.
Financial institutions use Aadhaar as a base document for verifying your identity and determining your authenticity as an Indian citizen. Regulated under the Aadhaar Act, the ID card has become an unprecedented part of the Indian lending system. To ensure uniformity in financial services, especially across the banking realm, the Indian government has made Aadhaar linking mandatory for the following purposes:
• Opening of bank accounts for personal or business use
• Applying for a PAN card
• Applying for new mobile numbers, LPG connections, voter IDs, ration cards, etc.
Why Is Aadhaar Card Essential For Business Loans?
Capital is the elixir that keeps the business rolling. It helps manage everyday operations and supports future expansions. Business loans are common ways to acquire quick liquidity. You can also use business loans to leverage unprecedented opportunities that might otherwise go waste due to lack of funds.
As loans carry an element of risk, financial lenders spend a substantial time in document verification before releasing the loan amount. Hence, banks and NBFCs mandate submitting your Aadhaar card, which works as solid identity proof.
Institutions use Aadhaar to comply with the KYC guidelines and verify your biometric data and demographic details stored on UIDAI's data portal. As a result, ID proof thrives as a one-stop KYC solution used by banks to determine the authenticity of the information provided in your application.
Typically, an Aadhaar card vouches for the following personal information of a person:
• Name
• Date of birth
• Gender
• Permanent address
• Photo
The government of India has made it compulsory for citizens to link their Aadhaar cards with PAN cards to ensure uniformity and transparency. It gives a fair chance to the lenders to analyse your income tax and bank account connected through PAN. In-depth scrutiny of accounts allows financial institutions to understand the financial health of your business before qualifying you as a debtor.
Linking Aadhaar with other vital documents helps loan givers to verify an applicant's financial and personal information. Simplified procedures ensure minimum turnaround time and speedy fund procurement. A duly registered Aadhaar number can help secure quick business loans from trusted lenders without hassle. Post Aadhaar verification, the lender checks other documents:
• Address proof- electricity and water bills
• Proof of business ownership
• Credit history and credit score
Conclusion
With financial institutions simplifying their lending norms, there has been a surge in the number of people applying for loans. Personal loans, business loans, gold loans, etc., are some of the most common loan categories used by borrowers to meet financial requirements.
Regarding business loans, lenders rely on your Aadhaar number for KYC verification. The unique ID serves as valid proof of your basic personal information, demographics, and biometric data. Therefore, you can enjoy speedy and hassle-free loan sanctions by linking your Aadhaar card to other necessary credentials used by lenders as eligibility criteria.
FAQs:
Q1. Can I use my business loan for personal needs?
Ans. You can use your business loans strictly to meet your business requirements. The funds help in managing everyday expenses while also supporting expansion plans.
Q2. Can I get an unsecured business loan?
Ans. Yes, you can avail of an unsecured business loan. In such cases, financial lenders do not ask for collateral, but they might request a personal guarantee from the candidate.