5 Budgeting Tips For Excellent Financial Health
The term "financial planning" can seem intimidating, but want to know how financial planning can help you? Read to know about 5 budgeting tips for excellent financial health.
12 Jan,2023
12:53 IST
963 Views
402 Likes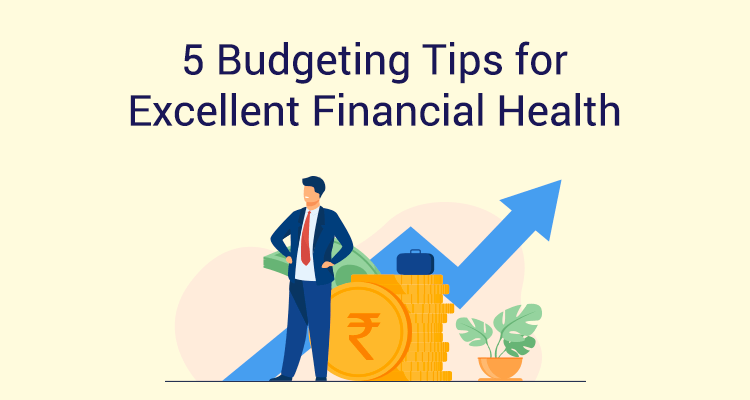 Financial planning can seem like a daunting term, especially if the income is low. However, with proper budgeting it is possible to not only maximize the use of the monthly income but also make small savings which can compound to a larger amount in the future, or can be used for emergency purposes.
With good planning one can not only secure one's financial health but work towards a better future. Here are five tips that can help anyone build excellent financial health.
1. Chart Out A Monthly Budget
A monthly budget is critical to have a realistic picture of one's financial health and create achievable goals. To create a budget, one must first make a list all expenses, then divide them into avoidable and necessary costs. Make a monthly budget after determining your needs and wants. Regularly review it and make any necessary revisions. Try as much as possible to stay within your spending limit.
To accommodate for any large expense such as consumer appliances like an air conditioner or for a car, one may opt for a loan and pay in equated monthly installments (EMI). This will help to make such purchases more affordable and not burn a big hole in one's pocket in one go.
2. Set Financial Goals
Setting targets is essential for prudent financial planning. Goals such as buying a house or a car, planning a dream vacation, or a good retired life can provide motivation to focus on the budget and prevent overspending. This also leads one to invest in financial products specifically designed to meet their goals. However, it is important to create attainable objectives with clear deadlines. This helps to prevent the disappointment of aiming higher than what is feasible and will help one to remain motivated.
3. Start Investing Early
The time to start investing is now. The earlier one starts investing, the more one gains from compounding. Compounding is the process of reinvesting the interest you earn on bank deposits or investment profits in order to increase the total corpus.
4. Building A Corpus For Emergency
Unforeseen expenses greatly disturb a budget if one does not have the right tools, such as an emergency fund, to deal with such situations. One must keep away some amount of funds for emergency purposes, such as an illness or a job loss. This emergency fund can help avoid taking out money from the long-term retirement corpus or taking loans from banks or friends and relatives. It is also important to take health and life insurance to prepare for large sudden expenses, especially medical emergencies.
5. Maintain A Good Credit Score
A good credit score mirrors good financial health as it reflects one's discipline in repaying loans. One's capacity to obtain a loan from a bank is determined by creditworthiness, which is reflected in the credit score. The borrower's credit score also affects the terms of a loan, especially the interest rate.
Paying off credit card bills and loans on time ensures that the credit score remains high. If one does not have cards or loans to build a credit history, one many take small loans and repay them promptly to establish a solid credit history. This will make it easier to raise larger loans at better terms in the future.
Conclusion
One of the best methods to boost one's financial health and save money is to set up a solid budget. Although many people are still hesitant to do this, it is advisable to make a budget in order to prevent overspending, carry out scheduled costs and save for the future and emergencies. Having a budget gives you total control over your finances and helps meet short-term expenses and realise long-term dreams.