4 Reasons For Personal Loan Rejection And How To Avoid Them
Lenders do a more thorough check before approving a personal loans to borrowers. Read to know about 4 reasons for personal loan rejection and how to avoid them.
31 Oct,2022
09:37 IST
2 views
10 Likes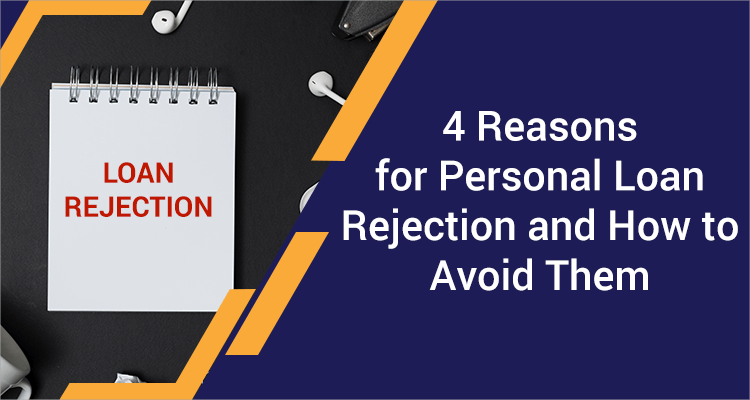 During financial emergencies or to fulfil basic expenses, personal loans are ideal. For example, a person can apply for a personal loan with a lender to pay the college fee or buy a home appliance such as a fridge or television. Since personal loans do not require pledging an asset as collateral, lenders have set an eligibility criterion to ensure that the borrower is financially capable of repaying the loan.
However, sometimes the lenders reject the loan application submitted by the borrower due to various reasons, complicating the entire process of raising capital to cover personal expenses.
Common Reasons For Personal Loan Rejection
Here are four reasons that may result in the lender rejecting the personal loan application, along with the solution to avoid such rejection.
1. Unstable Source of Income
Without collateral, lenders offering personal loan demand that the borrower must have a stable source of income. It can be from a salary or self-employment, but it needs to be constant. To avoid rejection, you must provide documents showing a regular income source.
2. Low Credit Score
The credit score is a three-digit score out of 900 to showcase the borrower's repayment capability. Lenders may reject your personal loan application if your credit score is below 750. You should make timely repayments of your financial obligations to maintain a credit score above 750 and avoid loan rejection.
3. Higher FOIR
Fixed Obligations To Income Ratio (FOIR), also known as the debt-to-asset ratio, is loan parameter lenders use to analyse the repayment capability of a borrower before approving the loan application. If the FOIR exceeds 55% out of 100%, it may lead to loan rejection. You should maintain a positive financial history to reduce your FOIR by making timely repayments.
4. Incorrect or Invalid Information
Lenders thoroughly analyse the loan application submitted by the borrowers detailing their basic information along with relevant documents to complete KYC. Providing false information or not submitting a required document may lead to loan rejection. You should carefully fill in all the correct personal information and submit all the required documents.
Conclusion
Personal loans have become an ideal loan product as the loan application process is entirely online, followed by quick disbursal of the loan amount. However, you must follow the steps mentioned above to avoid loan rejection and ensure that the lender approves your loan for quick loan amount disbursal.
FAQs
Q.1: What is the interest rate on personal loans?
Ans: The interest rate ranges between 11.75%-33.75% per annum. It depends from one lender to the next.
Q.2: How much loan amount can I borrow?
Ans: Generally, you can borrow up to Rs 5 lakh through personal loans. However, it depends on the financial institution.