4 Reasons For Personal Loan Rejection And How To Avoid Them
Before providing personal loans to borrowers, lenders conduct a more thorough investigation. Read on to learn the four reasons why personal loans are denied as well as how to avoid them.
10 Jan,2023
11:41 IST
508 Views
185 Likes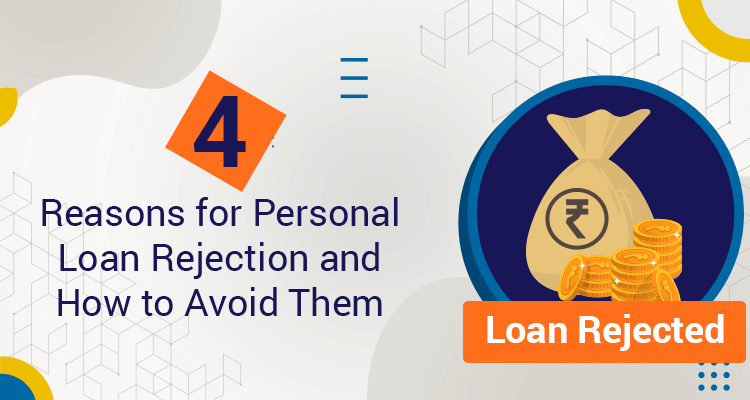 Financial emergencies are a fact of life. Whether it is a wedding in the family or an unexpected medical expense, most people face an emergency every once in a while. One way of overcoming a financial emergency is by taking a personal loan from a bank or a non-banking financing company.
Personal loans are unsecured in nature and do not require any collateral. But this also means that the lender will be extra careful in giving loans to minimize the risk of defaults, resulting in closer scrutiny of personal loan applications and occasional rejections.
Here are the four main reasons why banks and NBFCs reject personal loan applications.
Weak Credit Score
One of the main factors that lenders look at before providing a personal loan is the credit score of the borrower. A credit score, which normally ranges from 300 to 900, is calculated based on a number of factors including the loan applicant's credit history and total debt. Lenders use credit scores to assess whether a loan applicant will repay the loan on time.
A loan applicant with a credit score of 750 and above is considered highly creditworthy. The higher the score, the better the chances of getting a loan on better terms. A credit score of below 600 is considered risky and lenders may reject the application if the score is too low. Even when the loan is approved, the lender will charge a higher interest rate and may also insist on collateral because of the risks involved.
Existing Loans
A loan applicant with a number of existing loans will raise warning flags for the lenders. High indebtedness increases the risk of default and lenders typically avoid providing loans to those who already have high exposure to debt. Regardless of whether the applicant is repaying the existing loans on time, lenders avoid those who are overleveraged.
Some applicants repay their existing debt to take a higher loan. But this can backfire because the credit score, which also looks at the number of loan applications, will fall if a borrower is continuously seeking credit.
Insufficient or Irregular Income
Since personal loans are given without collateral, lenders assess the borrower's ability to repay the loan on time. If the applicant's income is low or if a substantial part of the income is going into repaying existing loans, lenders may reject the loan application.
Lenders look at a stable source of income so that the personal loan can be repaid on time. The chances of the loan application getting rejected are high if the applicant does not have a stable job or a steady source of income. If the loan applicant has changed a number of jobs in the recent past, the lenders will be wary of providing the loan.
Incomplete or Incorrect Documentation
A loan application is sanctioned by a bank or NBFC based on the verification of the documents submitted. Prospective borrowers must ensure they provide complete and correct information so that the loan can be sanctioned quickly. If the lender finds discrepancy in the documents you provided, the chances are that the application will be rejected.
Conclusion
A personal loan can be a great help during a financial emergency. But the chances of you getting a personal loan can be spoiled if you are careless with repayment of existing loans or not financially prudent or if your credit score is low.
You can improve the credit score by following the basic financial discipline of repaying existing debt on time. You should also ensure you provide accurate information to the lender and keep your debt-to-income ratio manageable.