What Are The Top 3 Unknown Facts About Foreclosure and Your Credit Score?
People choose loan foreclosures because they instantly lower their debt load. Want to know about the 3 unknown facts regarding foreclosure and credit score. Read Now.
13 Jan,2023
10:21 IST
1795 Views
931 Likes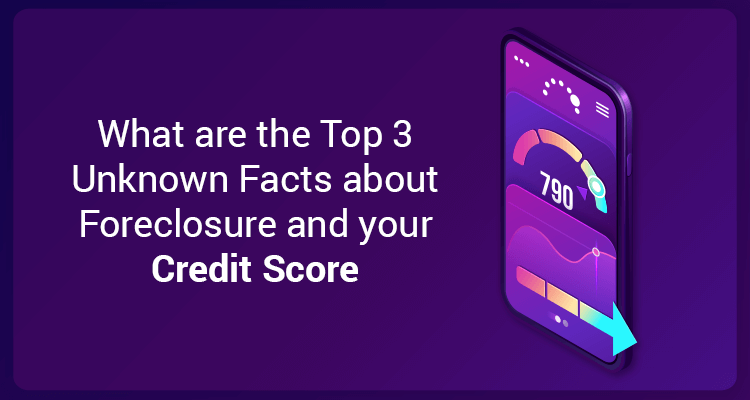 A personal loan is one of the easiest ways to deal with a financial difficulty. Personal loans are simple to get, can be used for various purposes and don't need a collateral. This makes them an ideal choice for most situations.
However, once the financial troubles are over many are concerned about the weight of the debt bearing down on them. Moreover, personal loans often have high interest rates. As a result, many consider repaying them as soon as they can.
One way to do so is through a loan foreclosure. The personal loan foreclosure is the process of paying the whole sum outstanding in a single payment before the loan expires.
Another interesting dynamic one needs to consider while deciding on foreclosing their loan is its impact on one's credit score. A credit score is a score calculated by credit bureaus which determines a borrower's creditworthiness. A higher score would mean better chances of getting a loan and other forms of credit at a better rate. Therefore, it is important to keep the credit score in mind while dealing with decisions related to any form of credit.
Here are three facts many do not know about the credit score and foreclosure.
Foreclosure May Not Always Have A Positive Impact On Credit Score:
People opt for loan foreclosures because it immediately reduces their debt burden. Some people also consider going for loan foreclosure as they think it might positively impact their credit score. This is not true as foreclosing a loan may not always have a positive impact on the credit score. In fact, the net impact of a loan foreclosure on the credit score could be negative.
Regular Repayment Of EMI Is Better Than Foreclosure To Build Up Credit Score:
If one's aim is to build up their credit score, then regular EMI payment is a better option to improve the credit score. Credit score algorithms value a history of timely repayments of loans. Regular EMI payments enhance the credit history and score while demonstrating a person's repayment credibility. Credit bureaus look at open accounts to arrive at credit scores. When one clears a loan, the account will be closed.
Ongoing Loans Do Not Negatively Impact Credit Score:
Many people opt for foreclosing their loan as they think having an ongoing loan negatively impacts their credit score. However, this is not always correct. Ongoing loans with steady and scheduled repayments of EMIs can improve one's credit score. Moreover, a healthy mix of different forms of credit like credit card, automotive loans, home loans, personal loans, etc. could boost your credit score if you repay them timely.
Conclusion
While it might be tempting to clear out your debt and foreclose your loan, it might not always be the best thing to do so. Foreclosing a loan also incurs penalty charges. Moreover, it does not make much sense to prepay a loan towards the end of its tenure, especially if prepayment charges are high. As a thumb rule, if the cash in hand earns less than what the borrower pays as interest plus penalty, it makes sense to prepay the loan.
One needs to keep in mind the pros and cons of foreclosing a loan and consider whether doing so is a good idea. If your goal is to build up your credit score, it may not be a good idea to foreclose your loan as you have a better chance of improving your credit history and score by repaying the loan as per schedule. Of course, if you already have a strong credit score, you don't need to worry about the foreclosure's impact and can opt to repay all your debts.