Wise Credit Steps To Gain A Good CIBIL Score By Age 30
Want to improve your cibil score before turning 30? Then read this article by IIFL Finance to know the complete steps to help you improve your cibil score!
10 Jan,2023
10:53 IST
1593 Views
852 Likes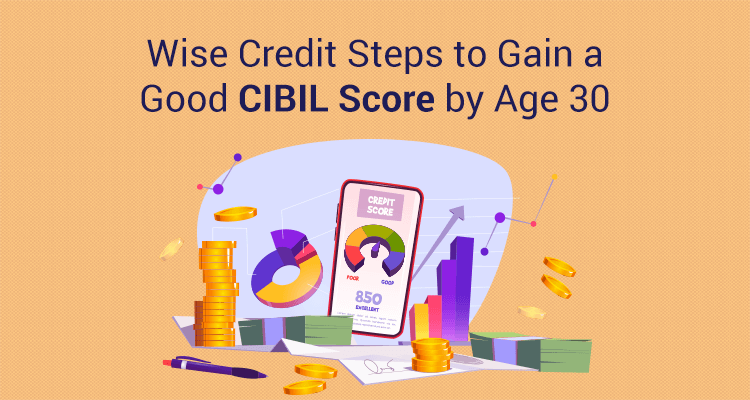 The CIBIL score is one of the various parameters that banks and non-banking finance companies consider before extending credit to their customers. It is the first impression for the lender, following which they will look into the application form and consider other details to initiate the loan process.
The CIBIL score is a reflection of the borrower's creditworthiness. It is contained in an applicant's credit report, an all-inclusive document having all information based on 36 months of credit activity of the applicant. A CIBIL score is calculated based on a lot of factors like payment history, debt usage, credit age, number and types of accounts, and credit inquiries.
The CIBIL score is a three-digit numeric summary of the borrower's credit profile and ranges from 300 to 900. A score closer to 900 means higher chances of the loan application getting approved with favourable loan terms.
It takes about 18 to 36 months or even more to hit a satisfactory credit score. Hence, when it comes to finances, it is good to start building a positive credit health at a young age. Here are some suggestions that can help to build a good credit score by the time a person completes 30 years of age:
• Get A Credit Card:
Applying for a credit card is undoubtedly the easiest possible way to build a credit score. But it is advisable to apply for a credit card with a low limit, this limit can increase with gradual income and positive payment behaviour.
However, young enthusiasts often make the mistake of applying for multiple credit cards. Every time one applies for a credit card, it impacts the credit score and lenders may tag such individuals as credit-hungry people.
• Use The Credit Card Regularly, Keeping Expenses Within Limit:
Having a credit card in the wallet does not boost the CIBIL score. An extended period of dormancy on a credit card may lead the credit card provider to deactivate the account. The duration of dormancy for deactivation varies but mostly it is after six to 12 months of inactivity. But then again this is not the thumb-rule for every card.
Using a credit card frequently comes with a countless number of benefits and allowances and not using the credit card deprives one of these benefits. In addition, most points or reward programs on the card expire if not used within a stipulated time. But that does not mean that one should spend beyond their means just to earn the benefits on the card.
• Never Miss A Payment:
Credit card holders should avoid late payments at all costs. Lenders periodically send credit data of customers to credit bureaus. The data is used to prepare the credit report and calculate the credit score. There are various credit bureaus in India which track information of credit users. Of these, TransUnion CIBIL is the most well-known and a large number of lenders rely on the CIBIL score before approving a loan application and determining lending rates.
Unpaid credit card bills result in penalty charges, higher interest rates and a negative credit score. If there are more than three missed payments, the card may be suspended and the debt may be transferred to a collection agency who may seize personal assets of the defaulters.
• Monitor The Credit Utilization Ratio:
It is the ratio of the utilized credit to the total available credit. A high credit utilization ratio can impact the credit scores adversely. Banks prefer keeping credit utilization below 30%. So, if the credit card limit is Rs 10,000, that would mean keeping the balance below Rs 3,000.
A regular credit utilization ratio of 90-100% gives the bank an impression of a credit-hungry person.
There is no fixed minimum score required to apply for a loan, though banks prefer a standard score of 750 or higher. Based on the CIBIL score, many banks and NBFCs decide whether to approve a loan or not. However, that does not mean that banks do not approve loans to individuals with low credit scores. But they are likely to come with higher rates of interest and additional costs.
Conclusion
When someone approaches a financial institution for a loan, the lender first runs a check on the CIBIL score and credit report of the applicant. But banks are often reluctant to lend to young professionals. Building a good credit score early in life may be hard.
Luckily, there are few ways to tackle the problem. The best way to do it is to get a credit card. But one must keep a tight grip over expenses and at the same time avoid the mistake of not using the credit card at all.
Young professionals with financial discipline can apply for loans at IIFL Finance to accomplish their future goals. For a hassle-free application process applicants can use the new IIFL Finance mobile app. IIFL Finance offers loans at competitive interest rates. As timely repayment of EMIs is a step towards building a good credit score, IIFL Finance offers its customers the convenience of online payment as well as the ease of repaying through mobile apps and digital wallets.