How A Good CIBIL Score Can Help You Celebrate The Festive Season Better
We often go above & beyond to make the festive season grand. Here are some of the facts on how a good cibil score can help you celebrate the festive season!
13 Dec,2022
12:49 IST
19 Views
13 Likes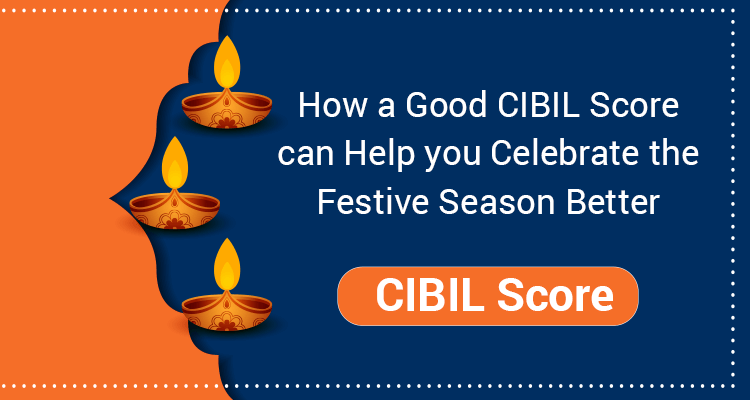 The holiday season is here, and e-Commerce companies, lending institutions, and retailers are helping customers gear up for their celebrations. People celebrate festivals by purchasing electronic gadgets and a new wardrobe collection. They also often take loans to make certain expensive purchases.
However, as you prepare for the festive season and plan to take a loan, you must consider your CIBIL score. The festival is a great time to apply for a personal loan, but you should maintain a good CIBIL score.
What Are CIBIL Scores?
If you're unfamiliar, an online CIBIL score is a three-digit evaluation between 300 and 900, with 900 representing the highest score. It determines a borrower's creditworthiness and competency to repay a loan.
Various factors affect CIBIL scores, including the amount of debt a borrower owes, the duration of credit history, the frequency at which he repays debt, and the number of credit inquiries. Your CIBIL score determines your ability to obtain credit. To be considered excellent, you must score 750 or higher. Getting credit cards and loans with a high CIBIL score is easier.
You should examine your CIBIL report regularly and keep an eye on your CIBIL score, which represents your financial health.
Ideal CIBIL Score For Loan Approval
During the festive season, purchasing gifts, house renovations, new clothes, jewellery, etc., cost considerable money. Hence, a personal loan is a great option for shopping during such celebrations to maintain savings in the bank. You can choose the EMI option to repay the personal loan. It is easier to get a personal loan with a decent CIBIL score, preferably above 750.
Reasons Why A Healthy CIBIL Score Is Beneficial For The Festive Season
A healthy CIBIL score has numerous advantages, including the following.
1. Lower Interest Rates
Your CIBIL score demonstrates your creditworthiness to lenders. Lenders will view you as reliable if you have a satisfactory
CIBIL score
. Furthermore, a sound financial history shows that you can repay your loan. Thus, you can get a personal loan at a low-interest rate from a financial institution.
2. Higher Loan Amount
High CIBIL scores also offer the opportunity to secure loans of higher amounts. Your earnings and CIBIL score determine your ability to borrow money. You can borrow substantially from financial institutions because your CIBIL score shows you as a responsible borrower. If your CIBIL score is low, you may still get a loan, but the approved amount may be lower.
3. Acceptance For A Longer Tenure Loan
Long-term loans often involve a higher level of risk for lenders. You can get a loan with a long, flexible repayment period and a high credit score. By repaying your long-term loan every month, you'll reduce your monthly credit burden, reduce your EMIs, and better manage your monthly expenses.
How To Improve Your CIBIL Score
Check your CIBIL score
before applying for a Personal Loan during the festive season or for any other reason. The following tips will help you improve your CIBIL score.
• Pay Off Your Debts
Improve your CIBIL score by clearing your outstanding debts. You can use personal loans to consolidate and repay multiple loans.
• Avoid Missing/Delaying Any Payments
A missed or late bill payment will negatively affect your CIBIL report. Thus, you must keep track of the deadlines for completing transactions.
• Don't Use Your Credit Card to Make Withdrawals
You should avoid making cash withdrawals with your credit card since this can reduce your credit score.
• Avoid Exceeding Credit Utilisation Limit
An individual's credit utilisation ratio measures the borrowing volume against the total credit limit. When the credit utilisation rate is less than 30%, this indicates less reliance on credit, reduced repayment burden, and creditworthiness.
Reliability improves your credit score and increases your chances of obtaining additional credit. Excessive credit usage, however, lowers your CIBIL score as it is considered negligence in finance.
• Don't Apply For Multiple Loans At Once
The lender checks your CIBIL score when you apply for a mortgage, otherwise known as a hard credit inquiry. Avoid sending out multiple applications, as this can negatively affect your CIBIL score. Consider waiting a few months before reapplying in case of application rejection.
Finance Your Festive Celebration With A Personal Loan From IIFL Finance
If you run short on cash to finance your festive needs, get a
personal loan from IIFL Finance
. A hassle-free application process is available when you apply for a customised personal loan. Fulfill your dreams with a personal loan from IIFL Finance today!
Frequently Asked Questions
Q1. What are the benefits of a good CIBIL score?
Ans. The benefits of a good CIBIL score include the following.
• Low-interest loans
• More advantageous and incentive-rich credit cards
• Loans with pre-approval are available
• Loans with a more extended repayment period
• The approval of credit applications is faster
Q2. What is the best CIBIL score to maintain?
Ans. You should aim for a CIBIL score of at least 750 on your credit report. It will allow you to obtain a personal loan or credit card effortlessly.