How Does Losing A Job Can Impact Your Credit Score?
Losing a job can increase the chances of defaulting on EMIs, thus, lowering the credit score. Read this article to know more details!
16 Nov,2022
09:29 IST
13 views
1 Like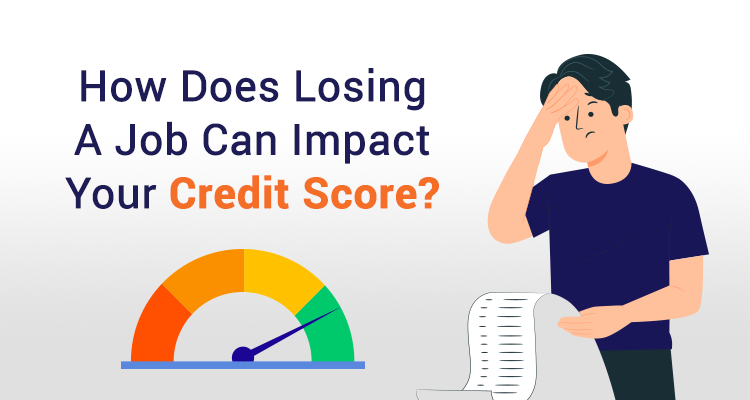 Many people have existing debt, such as credit card bills or loan EMIs. Although every salaried individual takes financial obligations enough to repay through their monthly earnings, what happens when they lose their jobs? Here's how losing a job can impact your credit score and how you can improve your credit rating without a job.
What Is A Credit Score?
The credit score, also called the CIBIL score, is a three-digit evaluation out of 900 that helps the lender check the borrower's creditworthiness before offering the loan amount. Lenders include having a specific score out of 900 as an eligibility criterion to ensure they can review the repayment ability of the individual and mitigate the risk of loan default.
Generally, lenders set a score equal to or higher than 750 to be eligible for taking various types of loans. An individual with a score closer to 900 is deemed more capable of repaying a loan than those with a lower
credit score
in India. Since most loans are unsecured and do not require pledging any asset, lenders prefer to approve the loan amount for borrowers with a high CIBIL score.
What Impacts The Credit Rating Of An Individual?
You can
check your credit score
anytime by visiting the websites of various
credit rating
agencies such as CIBIL. TransUnion CIBIL Limited generates the CIBIL score in India. It manages the credit files of over 600 million individuals and 32 million businesses, assesses your credit history, and provides a score out of 900. The assessment of credit history starts from the day you execute a digital repayment, such as paying off your credit card bill or paying the EMI of an existing loan.
With every successful and timely repayment, the CIBIL score increases by a few points as it depicts you are earning enough to repay the financial obligations. However, if you fail to repay debt such as a credit card bill, the CIBIL score decreases, depicting that you may again default on repayment with inadequate earnings.
Hence, before offering a loan, lenders analyse your CIBIL score to ensure that your financial condition is strong enough to repay the principal amount with interest to the lender within the loan tenure. As long as you do not default on repayments and keep covering all your financial obligations, you will have a high CIBIL score.
How Does Losing A Job Can Impact Your Credit Score
Your credit history contains all the repayments you have made till now and updates regularly based on new transactions. However, you must have enough funds to cover your existing financial obligations and maintain a good credit score.
If you are a salaried employee, you can always manage your finances as you know how much money you will get on a specific date. Such financial management ensures you have enough funds to repay your financial obligations and keep increasing your credit score.
However, losing your job makes it difficult to have enough funds to pay for the necessary things and still repay all the financial obligations. It can force you to default on timely repayments. Such defaults are recorded in the credit history and significantly lower your CIBIL score.
Once you default on repayments due to losing your job and not earning enough, the lower CIBIL score significantly lowers your chances of getting a loan approved by the lenders. Furthermore, as having a minimum monthly income is a prerequisite to a successful loan application, not having a job at the time of loan application makes it highly difficult to take a loan.
How To Improve Your Credit Score Without A Job?
Here is how you can improve your
credit rating
if you have lost your job and have financial obligations to cover.
• Not Accepting Credit:
Lenders can track new requests you have made for credit, such as a new credit card or a loan. If you have existing financial obligations, you must use your savings or alternate income to pay off all your existing debt before you apply for a new credit.
• Pay off Existing Debt:
While you search for a new job, you can use your savings or take a personal loan for debt consolidation at better terms. It ensures you do not default on repayments, and your credit score remains intact.
Avail of an Ideal Personal Loan From IIFL Finance
IIFL Finance provides comprehensive and customised personal loans to fulfil your capital requirement. You can also use the personal loan calculator to determine your repayment obligations. The personal loan offers instant funds up to Rs 5 lakh with a quick disbursal process. You can apply for the loan online or offline by visiting IIFL Finance's nearest branch and verifying your KYC details. The loan terms are flexible and come with nominal interest rates to mitigate the chance of a financial burden based on repayment.
FAQs:
Q.1: Can I get a personal loan with a low credit score with IIFL Finance?
Ans: If you want a personal loan and have a low credit score, you can start timely repayments and maintain a positive financial history to improve your CIBIL score. However, with a low CIBIL score, you can find a guarantor or provide collateral to take a business loan.
Q.2: What is the loan tenure for IIFL Finance personal loan?
Ans: When taking a personal loan from IIFL Finance, borrowers can choose from a loan tenure between 3 - 42 months.
Q.3: What is the minimum monthly income to apply for a personal loan with IIFL Finance?
Ans: The monthly salary or income of the applicant must start from Rs 22,000, depending on the city of residence.