Top Green Buildings in India
Green buildings are becoming an integral part of India because there are many benefits of green buildings which help to achieve sustainable growth and energy-efficiency in real estate sector.
13 Jun,2018
06:45 IST
3952 Views
357 Likes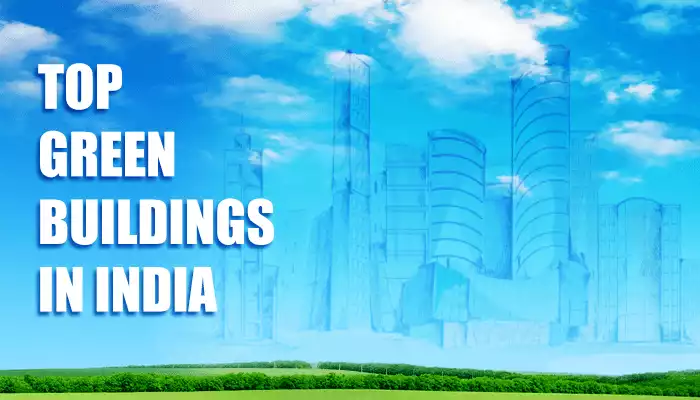 Green buildings are becoming an integral part of modern India. Over the years, green buildings have taken the front seat in many government initiatives like Smart Cities Mission, Pradhan Mantri Awas Yojana (PMAY) and Atal Mission for Rejuvenation and Urban Transformation (AMRUT). The real estate sector in India has taken note of the benefits of going green and hence many famous green buildings have been built in the country over the last decade. Here's a list of buildings that have led the way on India's road to achieving sustainable growth and energy-efficient real estate sector. The following list is no particular order.
Suzlon One Earth, Pune
The first name on our list of top green buildings in India is Suzlon One Earth located in Pune. The building received its LEED Platinum rating in 2010. The principal architect of Suzlon One Earth, Charles Benninger designed the building in such a way that 90% of the building receives natural daylight. Efficient ventilation ensures regulation of fresh air in the building and reduced energy consumption.
CII- Sohrabji Godrej Green Business Centre, Hyderabad
Sohrabji Godrej Green Business Centre is the first LEED Platinum certified building in India. The roof of the building is covered with vegetation to keep temperatures regulated. The large array of solar panels installed on the buildings generate around 100-120 units of electricity. This makes Godrej Green Business Centre one of the most energy-efficient buildings in India.
ITC Maurya, New Delhi
ITC Maurya is one of the first and largest LEED Platinum rated hotels on the planet. The hotel has been on numerous occasions received awards for being an eco-friendly hotel in India. What makes ITC Maurya stand out is that it recycles over 90% of its waste.
Jawaharlal Nehru Bhawan, New Delhi
The office of Ministry of External Affairs, Jawaharlal Nehru Bhawan is designed in sync with the environment and its surroundings. The external design of the building is derived from Lutyen's era while the interior is completely state-of-the-art. Insulated walls keep the building cool in summers and reduce air conditioning requirements by 30%. Reflecting panels do not let the building get heated in summers while keeping it warm in winters. Efficient waste management and recycling account for better resource management. CFLs have been installed along with vertical gardens giving the building a distinct look.
ITC Green Centre, Gurgaon
ITC Green Centre has received the prestigious LEED certification by USGBC-LEED. With green and sustainable building techniques used during the construction phase, ITC Green Centre has managed to reduce its energy consumption significantly. Double glazed windows do not allow heat to enter the building and double gaze insulation regulates temperature in the building.
Infinity Benchmark, Kolkata
Infinity Benchmark in Kolkata has been awarded the LEED certification for efficient use of energy saving techniques. To reduce pollution levels, electric vehicles are used for commuting within the complex. CO2 monitoring sensors ensure that when CO2 levels rise, necessary measures are taken. Insulated walls regulate the temperatures in the building thus reducing the need for artificial cooling or heating.
The Way Ahead:
The list of green buildings in India looks promising but there is still a long way to go. Real estate developers and consumers need to be educated about the massive benefits of green buildings. Government and regulatory bodies need to play a motivating role to enable consumers as well as developers to understand the need for green buildings in India.