Can I Transfer A Gold Loan From My Current Bank to Another Bank?
Transfer of gold loan from one lender to another can prove to be a wise decision. Want to know how to transfer gold loan from one bank to another. Read Now.
28 Nov,2022
10:32 IST
6 Views
2 Likes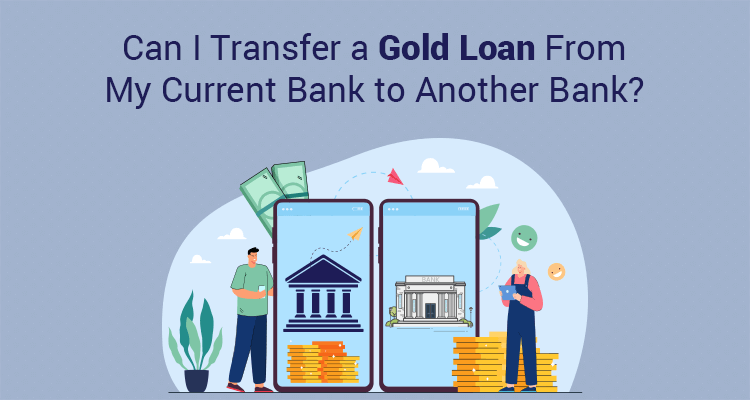 Every Indian household possesses a few gold items which make gold loans an approachable avenue. They can pledge these items as collateral and raise immediate capital to cover urgent expenses. Numerous lenders, such as banks and NBFCs, offer gold loans in India with different features and customer experiences.
Such a factor can force a borrower to transfer the current gold loan from the bank or financial institution to another bank or institution.
What Is A Gold Loan Transfer?
A gold loan transfer is a process of transferring a gold loan from one lender to another with a more favourable interest rate and loan tenure. A borrower can utilise the gold loan transfer approach if they are unhappy with the existing lender and its customer experience or service. Furthermore, borrowers can transfer their gold loan if another bank or NBFC offers a lower interest rate or longer loan tenure.
How To Transfer Your Current Gold Loan To Another Bank?
Transferring a gold loan can allow you to lower your financial obligations and save more. Here is the process of transferring your gold loan from your current bank to another bank:
1. Check the eligibility criteria for a gold loan from the new lender and if you fulfil them.
2. Apply for a gold loan foreclosure with your current lender.
3. Visit the website or the office of the chosen lender and apply for a gold loan transfer.
4. Fill out the application form and submit all the necessary documents.
5. Obtain the pledged gold from your existing lender and deposit it with the new lender.
6. Get a new gold loan agreement from the new lender on favourable terms.
7. Once the gold loan transfer is approved, you will get the gold loan amount into your bank account.
Conclusion
A gold loan is ideal for raising adequate funds by pledging your gold. However, a gold loan is as good as the lender, and it is essential to ensure you have the best customer experience. If you are unhappy, you can transfer your gold loan to another lender with favourable terms.
FAQs:
Q.1: Can I transfer a gold loan from a bank to an NBFC?
Ans: Yes, you can transfer a gold loan from a bank to NBFC if you fulfil the latter's gold loan eligibility.
Q.2: Do I need to pay foreclosure charges to my current lender for a gold loan transfer?
Ans: Yes, you may need to pay foreclosure charges as per the rate mentioned by your current lender.