Find The Right Personal Loan Tenor That Works For You
Personal loan can be helpful for any individual to meet unexpected financial needs. Choosing an right personal loan is important. Read to know how to choose right personal loan tenure.
15 Nov,2022
12:47 IST
2 views
29 Likes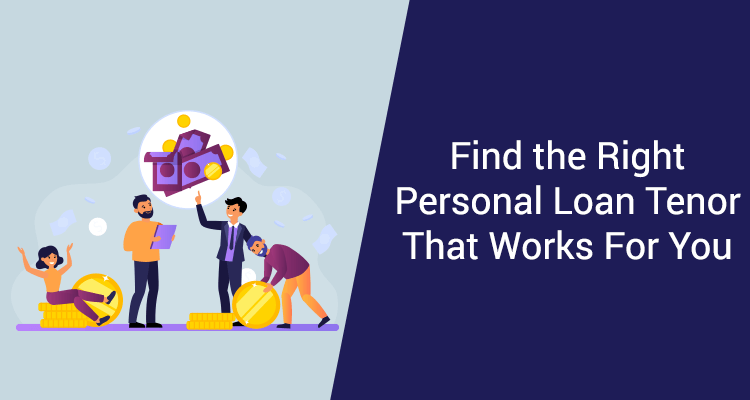 Personal loans are a potential resource that can help you manage all your professional and non-professional financial requirements. Generally, when applying for personal loans, you opt for one that provides hefty loan amounts at affordable interest rates. While these are essential factors, borrowers should also pay attention to loan tenure or period. It is this tenor that helps to fix the EMI and the interest rate payable on the loan.
Simple Ways To Choose The Right Personal Loan Tenure
• Track Your Income, Expenses, and Savings
When fixing your loan tenor, ensure you know your monthly income, expenses, and savings. Understanding your budget will help you ascertain your monthly cash flow. It will help you choose the most feasible loan period to solve your financial crisis without the excessive burden of heavy EMIs or high-interest rates.
• Opting For A Tenure That Fits Well With The Loan Amount
Your loan tenure depends upon the loan amount you plan to take from the financial institution. For instance, a shorter term is ideal if your loan amount is only 2x or 3x higher than your monthly income.
Contrarily, when borrowing a sum 5x or 6x of your monthly income, you should choose a more extended loan period. The higher the loan amount, the more prominent the interest liability.
• Assess The Interest Rates
Your interest rate and eligibility to acquire a personal loan largely depend on your credit score. The interest rate also relies on your chosen loan period. A shorter repayment tenure involves a lower interest rate than a longer tenure that attracts higher interest rates.
If you are eligible for a lower ROI based on your creditworthiness, you should opt for a shorter loan tenure and reduce your interest payment. However, if your credit score is inadequate, you should choose a longer term that suits your budget well.
• Examine Your Anticipated Future Monetary Appraisals
When deciding your loan tenure, consider your upcoming financial surges, such as salary increments or business profits. If you are sure about these hikes, you can opt for higher EMIs with a shorter period. However, repayment of a higher EMI can be a problem until you avail of the increments, but it will substantially reduce your interest payment, causing you long-term savings.
• Pay Attention To Other Financial Liabilities
Before applying for a new personal loan, consider all other financial obligations. It will aid you in selecting a suitable duration for the debt. The most frequent debts are credit card payments, rent, educational expenses, etc. Therefore, you should choose a tenure that balances all liabilities well.
• Use An Automated EMI Calculation Tool
An automated EMI calculator provides an overview of personal loan obligations, including the EMI, interest rate, and loan period. The calculator also gives you an estimated idea about the total loan amount likely to be disbursed by you during the pre-determined period. These tools help compare different loan schemes to select the one best suited to your requirements.
Conclusion
Financial crunches can complicate your personal and professional lives. While there are several ways to fight such turbulences, personal loans are one of the best available options in the market. When choosing tenure, you should consider all the essential factors to avail a maximum loan amount at minimum interest.
FAQs
Q1. What is a good credit score for personal loans?
Ans. Your credit score is a robust parameter used by FIs offering personal loans. A score of 750+ is favourable for personal loan sanctions.
Q2. What documents do you need to submit for personal loans?
Ans. The documents needed are:
• ID proofs like Aadhar card, PAN card, etc.
• Address proof, such as electricity bills.
• Income proof, such as salary slips for salaried employees