Why Is My Credit Score Different Across Credit Bureaus?
A person's credit score vary based on the entity creating the credit report. Know why do credit scores vary across credit bureaus!
20 Oct,2022
15:58 IST
18 views
15 Likes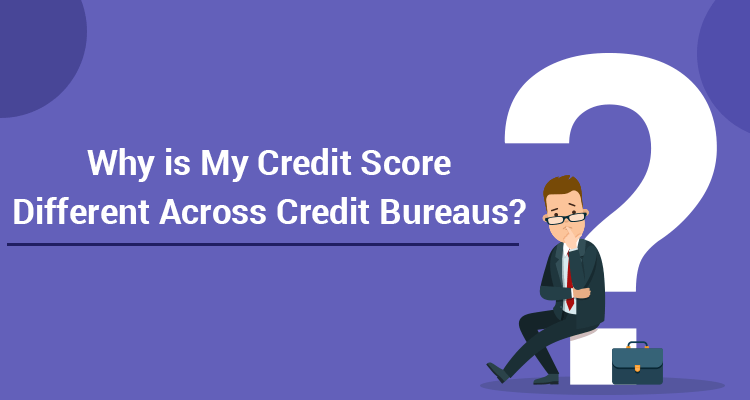 An Indian credit bureau is a financial institution licensed by the Reserve Bank of India to collect and maintain information about the credit behaviour of individuals and businesses. Using this data, these companies generate credit reports and scores for individual borrowers across various lenders and loan types. Presently, India has four credit information companies: Equifax, Experian, TransUnion CIBIL, and CRIF Highmark.
If you've checked your credit score across all four bureaus, you may wonder,
"why is my credit score different on different sites"
? This article explains the reasons behind the difference in credit scores.
What Are The Factors That Affect Your Credit Score?
Let's look at the factors that affect your credit score before answering, "
why is my credit score different
for different bureaus?"
1. Your Repayment History
A major contributor to your credit score is your credit history. Late payments and defaults will negatively affect your credit score, while consistent payments will improve it.
2. Credit Mix
It refers to the number of secured loans (such as home loans, auto loans, etc.) and unsecured loans (such as credit cards and
personal loans
) in your profile. When your credit profile has a mix of different types of credit, the financial institution will feel more comfortable lending you money because you can handle different kinds of credit.
3. Hunger For More Credit
You may receive multiple hard inquiries from banks if you take on more credit than you can handle. These inquiries will indicate that you are taking on too much debt. Overextending your credit limit frequently also leads to the same opinion, which can negatively impact your credit score.
4. Reviewing Your Credit Report
People often overlook credit reports when talking about credit scores. You should always check your credit report once a year for errors and inconsistencies.
Why Do Credit Scores Vary Across Credit Bureaus?
Your credit scores may differ between credit bureaus for three main reasons:
1. The Credit Bureaus
Each credit reporting agency uses different credit scoring algorithms, which causes the variation in credit scores.
To evaluate your creditworthiness, creditors, lenders, and insurers use many different scoring formulas. Your credit score can vary based on the entity creating your credit report.
2. Your Creditors
Most of the information on your credit report comes from your creditors in various ways. If you tell your gold loan lender that you have changed addresses, they may report that change to the credit bureaus. If you make a late payment, they will report this too. It is an ongoing cycle.
Therefore, one credit bureau may know that you repaid your home loan late, but another may not have received the information. Credit scores can be vastly different until both credit bureaus update their data.
3. Time Gap Of Sharing Information
You know that bureaus receive information regarding your repayment history and debt management pattern from lenders. However, there is an amount of delay before the bureau gets your details, which can last a week, month, or quarter.
Assuming Equifax receives lender information monthly while CIBIL receives lender information weekly, you can presume Equifax doesn't have all the updated information if you check your monthly score, while CIBIL will. Therefore, your Credit Score may differ from one credit rating agency to another.
Avail Of A Loan with IIFL Finance
IIFL Finance offers various financial solutions, including mortgage loans, capital market financing,
gold loans
, and business loans. Get customised loan products at a competitive interest rate and fulfil all your financial needs today!
FAQs
Q1. Why are Experian and CIBIL scores different?
Ans. The common reasons for your Experian and CIBIL credit scores to vary are as follows.
1. Each bureau's score comes from a different date or period
2. They use different algorithms and models to calculate scores
3. The bureau may receive information from lenders at different times.
Q2. Which credit score should you follow?
Ans. The credit score measures your creditworthiness. It's likely that if you have a good credit score in one bureau, it will be good in other bureaus. You can follow any credit score you want.