As a mother, here's why you should prioritize health insurance
If you are a mother, buy health insurance this year; putting yourself first means you are taking care of your and the family's future.
12 Mar,2020
01:00 IST
135 Views
777 Likes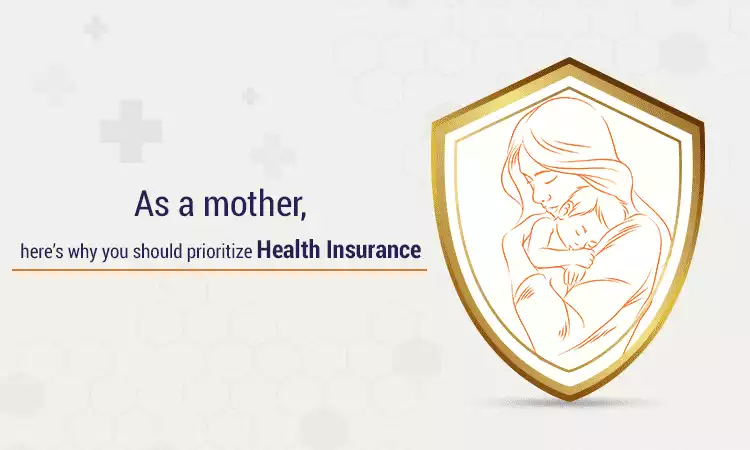 As the New Year has only just begun, it is time for us to do a little introspection and see what kind of changes we need to bring into our lives and thinking. This holds true for everyone in the family, but more so mothers. A healthy and happy mother means a healthy and happy family. As a mother, it is important to put yourself first -- this is an act of self-care and self-love. This is also an act of preserving the well-being of your family.
So, as a mother, how do you care for yourself so your family and society is healthy? By opting for health insurance that covers you and your children cover. If you are an expectant mother or planning on motherhood in the future, it is important that you have a maternity plan to cope with rising healthcare costs. Any health complications, pre and postnatal care of mother and child are covered under different health insurance and maternity plans. Cover is also provided for the newborn baby in case there are any congenital conditions, for a specific number of days from the time of birth, as part of these policies. There are also many health insurance schemes that cover newborn babies after a specific period, say 90 days. The delivery and post-delivery hospitalisation are also covered under the maternity insurance scheme. Many health insurance schemes offer maternity benefits as add-ons which can be purchased along with the main scheme.
Why do mothers and women need health insurance?
The birth of a child is not the only reason why women need health insurance. As mothers come of middle age, there is a greater incidence of diabetes and thyroid, autoimmune disorders and cancers. According to the Cancer India website, more women in India are diagnosed with cancer than men. Also, women are at a higher risk of heart disease than men, reports suggest(1). A range of hormonal issues especially during menopause can leave women vulnerable to diseases. As a woman and a mother, you need to consider all these stages of your life and seek adequate insurance coverage for all possible health-related issues.
Healthcare costs involved
Rising healthcare costs is one of the reasons why health insurance is so important. The costs of childbirth/delivery alone can run into anywhere up to Rs 2 lakh or more in a private hospital(2). Add to this costs pertaining to pre and postnatal care, and you are staring at a daunting bill Other healthcare costs for mothers could come from lifestyle diseases, stress, obesity or mental health issues. Motherhood can take a toll on your health, and it is important that you put yourself first and take care of your health. You also need to be prepared for any costs that you may incur owing to health-related issues.
Burden of multiple roles
A mother, especially in Indian society, undergoes immense pressure while playing several roles -- the mother is the primary caregiver for not just her children but also her inlaws, spouse and even parents. The pressures on a mother to balance professional and personal life are also immense, making her more vulnerable to stress, anxiety and other mental health issues. A mother often tends to put herself last in the pecking order. It's early days in the New Year, but this would have to change, and women need to consider a sound health insurance plan that covers them and their children/spouse in times of need.
If you are thinking of availing insurance because you understand the need for it, you are on the right track. A lot of Indian women still don't buy insurance policies for themselves, because they may not have the decision making power, earning power or even awareness to do so. According to a study(3) on 19 per cent of women surveyed across 15 states in India bought health insurance in 2019. Almost 75 per cent of the women who bought health insurance policies were in the 25-45 age group. This shows that more women are into financial planning and making decisions about their financial situation and health. You could choose from a range of insurance policies available on IIFL, depending on your age and your financial position. All you need to do is look up the options and pick one, based on your needs.
SOURCES
1: https://timesofindia.indiatimes.com/