How to E-Apply for a Home Loan?
Applying for home loans is now digitized and customer can easily apply for a home loan from comfort of his living room simply by clicking the apply now button on websites of financial institutions
7 Jun,2018
05:00 IST
41 Views
644 Likes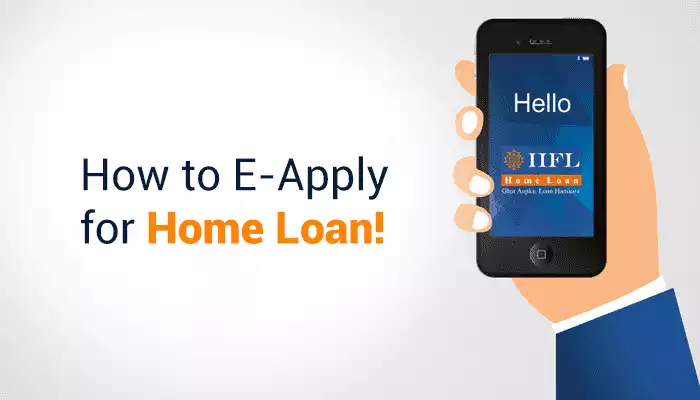 Home loan is financial assistance that an individual seeks from a bank or Private Lending Institution (PLI) at a predefined rate of interest. This interest rate is repaid to the bank or lender with the EMI every month. If the borrower is taking a home loan, then his/her property is taken as security or mortgage. Home loans gives an option to people who are low on financial assistance. Taking home loans also works as an effective tax savings option. The Income Tax Act in India has provisions which allows borrowers to save tax on their income.
Over the years, applying for home loans has become digitized and customer can easily apply for a home loan from the comfort of his living room. Today, loan process has been made simple to suit the convenience of customers. Customers can apply for home loans simply by clicking the apply now button on websites of financial institutions. Organization gets in touch with customers and processes loan approvals on tablets after collecting the documents from their doorsteps. Once proper documentation is done, loan disbursement happens electronically. The process of customer visiting bank branch is removed with the advent of technology and the process is made streamlined.
Customers today have multiple home loan options from various bank & PLIs to choose from. Home buyers can compare ROI of different lenders online at real time basis thanks to online platforms. Customers can now check and compare multiple home loans from different providers and compare rates in real time. One can easily track interest rates, penal charges, branches, loan conditions and amortization schedules from the comfort of their homes.
Here are the major benefits of e-home loans:
Easy and Transparent:
Traditional home loans required plenty of time to be invested by the Home buyer. In the past, process of home loan took up a lot of time for both customers and banks. E-loans is an instant answer to this lengthy process. With services like Jhatpat Home Loans, customers can get home loan approvals in as fast as just 60 minutes* A major reason for this could be contributed to the digitization of the process from online loan application to approval and fund transfer.
Speedy Processing:
The traditional method of applying for a home loan left customers waiting for numerous weeks. Often this wait became a painful one in case the application got rejected. However, the e-Home loan or digital process has reduced the TAT for customer responses. As compared to traditional methods, lenders can now process applications and notify customers about whether their application was approved in just matter of few days. This saves significant time for the borrower in making his or her decision and hastens the process of handing over the down payment for the new house. With quick approval also comes quick disbursal of funds, and customers don't have to wait weeks before they step in to their new home.
Determine your Eligibility:
Applying for traditional home loans required customers to submit a number of documents to prove their eligibility for a home loan. E-home loans, gives customers options like home loan eligibility calculator, PMAY CLSS Subsidy calculator and loan against property calculator on website where customer can check PMAY subsidy eligibility and even CLSS subsidy instantly.
Are you ready to apply for a home loan online?
Author:
Paras Arora- He is a chartered accountant by profession who likes to practice dance, photograpy and yoga in his free time. A sports and food enthusiass, Paras runs a food blog on Zomato and has also won various accolades in volleyball and cricket.