Home Loan Versus Loan Against Property
Confused between Home loan & loan against property? Worry Not! Here are the key differences between the tow to help you make an informed decision!
21 Feb,2018
07:15 IST
197 Views
419 Likes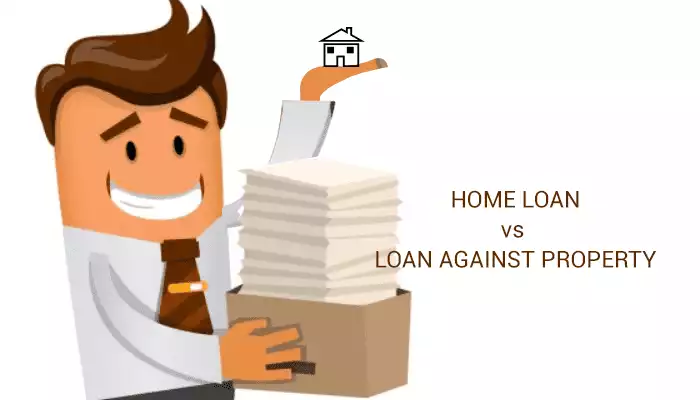 Amongst the several types of loans, home loans and loan against property are most common. Many think they mean the same thing as they confuse the two terms. It is important to have a clear idea of the terminology.
Differences between Home Loans and Loan Against Property
Home Loan
Loan Against Property
Purpose
Taken to buy a ready-to-move in-house or book an under construction property. It can be taken to buy a plot and/or constructing a house on that plot.
Can be taken for business use or even for personal use such as education for children, marriage etc.
Options Restrictions
Available for buy both residential and commercial properties.
Taken to raise additional funds.
Collateral
The property to be purchased is pledged with the lender.
Some other property is pledged and not the house one is intending to finance.
Tax Exemption
Tax exemptions are available under Section 24 for interest and 80C for principal
No tax exemption under Section 24. The availability of tax benefits will depend on the ultimate use of the money borrowed.
Defaulting
Original documents of the property will be under banks custody as security.
If the borrower fails to repay the loan amount, banks will move legal procedure to own the property.
Interest rate
As low as 9-12%
11-14% depending on the type of lender and profile of the borrower.
Margin
Lower Margin: Up to 90% of the property value is granted as loan
Higher Margin: only up to 60% of the property value is granted as loan
Tenure
Maximum 30 years considering the age and eligibility of the applicant
Maximum 15 years by almost all banks and other finance companies.
Benefits of a home loan:
Exemption on Interest Payment: A maximum of 2,00, 000 is exempted from interest payable on home loan under Section 24 of Income Tax Act 1961.
Exemption on Principal Payment: A maximum of Rs. 1,50,000 is exempted on the principal amount for repayment of the loan along with other savings and investments under Section 80C of Income Tax Act 1961.This deduction under Section 80C is available on payment basis irrespective of the year for which the payment has been made.
Additional Exemption on Interest Payment: An additional sum of Rs. 50,000 is exempted from interest on Home loan under Section 80EE.
Benefits of a Loan Against Property
Easy to get the loan sanctioned - As it is a secured loan, so banks do not have much risk factor and are a great way of improving once credit score. The property title must be clear, and you need to furnish some other proofs to get the loan.
No precondition on the usage of funds -There are no restrictions as to how the funds are utilized. One can avail this fund for education, medical costs, purchasing a new house, travel plans, setting up a business, marriage etc.
Lower Interest rates than Personal Loan - Loan against property is the cheaper loan compared to unsecured loans and thus, an effective way to meet your monetary demands during the times of financial need.
Repayment option through EMI or Overdraft Facility - You get the benefit of paying the loan either through equated monthly installments or overdraft facility, whichever you choose.
Either commercial or residential Property can be used a collateral - In order to get the loan sanctioned the property must be owned by you. It can be taken on a piece of land you own and even in few cases properties that are under construction.
No Repayment on loan closing: Unlike other types of loan where there is the possibility of prepayment penalty if one prepays the loan against a property to clear off the liability sooner than the term decided.
Easy EMI and flexible tenure: It offers a loan tenure extending to around 20 years, in case, the loan amount is high. Also, you have the option of paying smaller EMIs.