Why A Good CIBIL Score Is Vital For Achieving Business Goals?
A good credit score not only increases your chances of approval but it also helps you get approval faster. Read to know how to achieve your business goals easily!
7 Dec,2022
11:00 IST
13 Views
6 Likes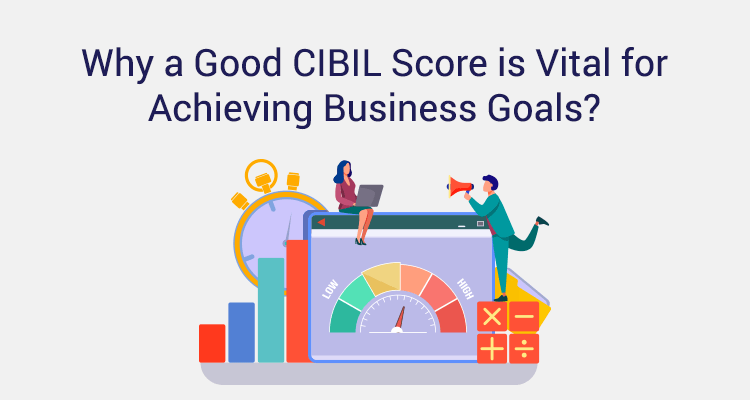 When starting a business, the first and most vital requirement is capital. A business loan provides the most flexible terms among numerous ways to raise adequate funds. Although a business loan directly affects the achievement of business goals, the CIBIL score is a vital factor to understand before applying for a business loan. Having a good credit score indirectly affects the achievement of business goals. Here's why.
What Is A CIBIL Score?
A CIBIL score is a three-digit evaluation out of 900 that reflects the creditworthiness of a person to the lender. An individual with a score closer to 900 is more capable of repaying a loan than those with a lower credit score in India.
TransUnion CIBIL Limited generates the CIBIL score. It manages the credit files of over 600 million individuals and 32 million businesses, assesses your credit history, and provides a score out of 900. When entrepreneurs take a business loan, they adhere to the business CIBIL score requirement to get their loan approved.
The Importance Of CIBIL Score For Achieving Business Goals
When considering starting a business, people manufacture products or render customer services. However, entrepreneurs need a high capital amount to execute the idea into reality and run the operations smoothly. They can either invest in the business through their capital or raise external funds.
Some entrepreneurs consider investing in their businesses to create an initial product or service. Based on this product or service, they ran their business for several years to reach a position to raise external funding. Since the company may be unprofitable in the initial years, the entrepreneurs need external capital for expansion. Hence, when the business has been running for years, they opt for raising external ones. Among numerous avenues to raise external funds, a business loan is one of the most preferred by entrepreneurs.
However, lenders have created eligibility criteria to offer business loans to entrepreneurs, and having a specific CIBIL Score is one of them. If the business loan applicant has the needed credit score while applying, the lender approves the business loan. Entrepreneurs can use the approved business loan amount to invest in the business and effectively achieve their business goals.
What Is The required CIBIL Score For Business Loans?
Lenders offer business loans to entrepreneurs but take on high risk, called default risk, in case the borrower fails to repay the business loan. If the business owner defaults on the repayment, the lender will incur losses equalling the outstanding loan amount. Lenders mitigate such losses by ensuring that borrowers must have a minimum CIBIL score before approving the business loan, as there is no collateral attached to business loans.
In India, most lenders set a CIBIL score above 750 out of 900 as the minimum CIBIL required for a business loan. Before applying for a business loan, entrepreneurs should execute a CIBIL score check through online CIBIL score websites that allow business owners to check their business CIBIL score. However, if you have a CIBIL score lower than 750, you may need to either pledge an asset as collateral or find a guarantor to apply for the business loan with you.
Things To Consider For Increasing The CIBIL Score
The credit score depends on the applicant's past financial and repayment history. If the applicant has defaulted on any financial obligation, such as loan EMIs, utility bills, etc., it can drastically lower the credit score. In such a case, the applicant's business loan application process may get rejected by the lender. Here are some things you should consider to increase your credit score above 750:
• Timely Repayments:
Ensure you repay all current financial obligations before the end date and avoid defaulting on repayments.
• Not Accepting Credit:
If you have existing financial obligations, you must use your savings or alternate income to pay off all your existing debt to increase your credit score.
• Credit Utilisation Ratio:
Ensure that you are not using the credit limit on credit cards to the maximum to have a lower credit utilisation ratio.
Avail Of An Ideal Business Loan From IIFL Finance
IIFL Finance offers varying financial services, including customised and comprehensive business loans. Through
IIFL Finance business loan
, you can get instant funds up to Rs 30 lakh with a quick disbursal process online and minimal paperwork. The loan's interest rate is attractive and affordable to ensure the repayment doesn't create a financial burden. You can apply for the loan online or offline by visiting IIFL Finance nearest branch and verifying your KYC details.
FAQs:
Q.1: How can I check Cibil Score online?
Ans: You can visit the website of TransUnion CIBIL Limited to check your online CIBIL score. One-time results are free of cost.
Q.2: How much time does it take to approve the IIFL Finance business loan?
Ans: IIFL Finance approves a business loan within 30 minutes of application. Once approved, you will receive the loan amount in your bank account within 48 hours.
Q.3: Can I achieve my business loans through IIFL Finance Business Loans?
Ans: Yes, you can apply and raise adequate funds to a maximum of Rs 30 lakhs through IIFL Finance business loans. You can use the loan amount to invest in every aspect of your business and achieve your goals.