How Does Your CIBIL Score Affect Your Car Loan?
Your CIBIL score is a crucial factor in determining your eligibility for a car loan. Get tips on how to improve your CIBIL score and make the car buying process easier!
20 Jan,2023
09:35 IST
2361 Views
949 Likes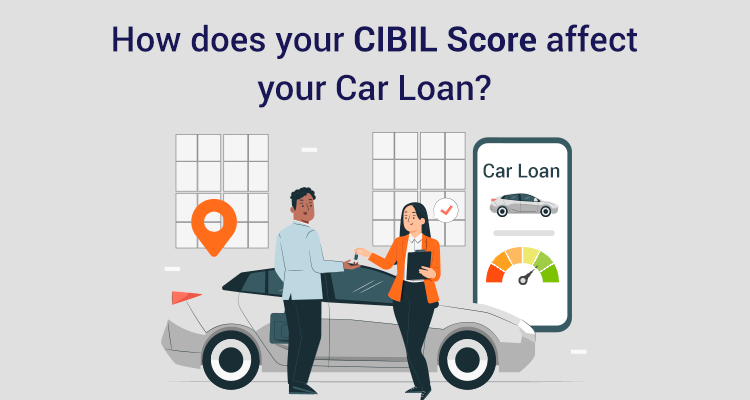 Cars are expensive, whether they are brand-new or repurchased. Therefore, many car buyers choose to finance their vehicles with a car loan.
Lenders consider various factors when determining a loan applicant's creditworthiness during the car loan underwriting process. Your CIBIL score and report will play a vital role in your application.
You'll easily receive approval if your CIBIL required for a car loan exceeds 750+. Lenders prefer consumers with high credit scores, indicating they are credit-conscious - someone with a good repayment history.
Importance Of A Good CIBIL Score For Car Loans
The importance of
CIBIL score for car loans
is as follows.
• Determines Approval or Rejection:
Based on your repayment history, CIBIL scores, and other credit scores, determine whether lenders will approve your loan request.
• Determines The Rate Of Interest:
The higher the score, the more financially responsible you are. You can negotiate the interest rate with lenders and receive lower interest rates. However, low scores result in lenders raising interest rates because they pose a risk to them.
• Determines The Loan Amount:
You can qualify for a bigger car loan if you have proof of your creditworthiness and a good repayment history. But, you may be ineligible if you have a lower CIBIL score.
Good credit scores will also make it easier for you to take advantage of special offers, such as zero down payments, lower processing fees, etc. When you have a low score, you may not get a car loan, be offered a loan with a higher interest rate, or have to pay a higher down payment.
What Should You Do If You Have a No/Low Credit Score?
What should you do if you don't have a
CIBIL Score
or a low credit score? Low scores do not mean you can't get a car loan. Instead, you must achieve a high CIBIL Score before applying for a loan. You can get the
CIBIL score required for a car loan
and credit footprint by following these steps:
1. Always Pay Your Dues On Time:
Lenders view late payments negatively.
2. Keep Your Debt Low:
Control your credit utilisation to avoid overusing credit.
3. Maintain A Healthy Credit Mix:
The best way to manage debt is to have a healthy combination of secured (home loans, auto loans) and unsecured loans (credit cards, personal loans). Lenders can view an excessive number of unsecured loans negatively.
4. Check Your Joint, Cosigned, and Guaranteed Accounts Monthly:
You are liable for missed payments on cosigned, guaranteed, or jointly held accounts. Negligence on the part of your joint holder (or the guaranteed individual) may hinder your access to credit.
5. Review Your Credit History Frequently:
Keep an eye on your CIBIL Score and Report for any errors to avoid unpleasant surprises like loan rejections.
Get An Ideal Loan From IIFL Finance
IIFL Finance offers funding options for both personal and professional goals. Regardless of your financial needs, we can meet them all with our gold loans, personal loans, business loans, and more. Get started today!
FAQs
Q1. What is the minimum CIBIL score for a car loan?
Ans. Generally, a CIBIL score of 750 and above is considered a good credit score for car loans.
Q2. Can you get a car loan with a low CIBIL score?
Ans. Yes, you can get a vehicle loan with a low credit score. To get a loan, you will need to demonstrate a stable source of income and find a guarantor or settle for a smaller amount.