Essential Habits For A Great Credit Score
Boost your credit score with our essential habits guide. Read this article to start building a great credit score today!
19 Jan,2023
11:05 IST
1507 Views
627 Likes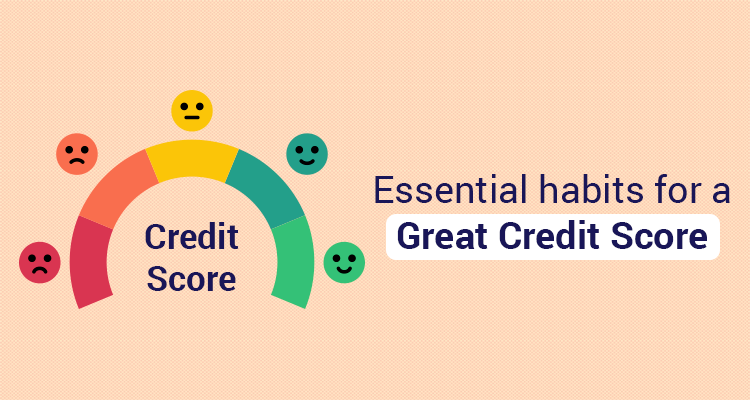 Your credit score determines how responsible you are when borrowing money. A credit score of 750 or higher demonstrates financial fitness. Thus, lenders are more likely to view you as a reliable borrower and offer better interest rates on loans and higher sanctions. Follow these five effective habits to maintain or increase your CIBIL score.
How To Maintain A Good CIBIL Score?
1. Pay Your EMIs On Time
Repaying your installments on time is always the best option to
improve your CIBIL score.
Payments completed on time demonstrate responsible credit behaviour, positively affecting your credit score. Late payments on credit cards and loans reflect a lack of financial planning and can reduce credit scores.
2. Full Payments For Credit Cards
When a credit card bill arrives, you have two options.
• You can pay the entire amount at once OR,
• You can pay the minimum amount set by the bank.
By choosing the second option, you can keep the lenders at bay about the amount due. But CIBIL considers an unpaid amount an overdue amount, indicating poor financial management. Whenever possible, pay all your credit card bills in full to avoid this.
3. Earn More, Spend Less
It does not mean that your salary has anything to do with your
CIBIL scores
but that you shouldn't spend more than you earn. Where spending exceeds earnings, you may require credit which will increase or accumulate more debt.
4. Never Default
You must make all your payments on time if you have taken a loan or own a credit card. A missed payment or default gets recorded in your credit history, affecting your score or making it difficult for you to get a loan in the future.
5. Don't Be Credit Hungry
Constantly applying for loans could be a sign of credit-hungry behaviour. The CIBIL score goes down a bit with every loan application because the bank conducts a hard enquiry on your credit report. As a result, your score will drop. It is best to wait until you require a loan before applying.
6. Keep The Borrowing Balanced
Healthy borrowing is all about balance. Try to take several types of loans instead of just one each time, such as a home loan, a
personal loan
, an auto loan, etc. Creating a mix of secured and unsecured loans is the objective. Future lenders are reluctant to extend credit if there are too many credit cards, personal loans, and other unsecured debts.
7. Don't Close Credit Cards
You might think it counter-intuitive not to close any avenues that might harm your credit history. However, closing all your credit cards will prevent you from building a credit history, which can be an issue if you ever need a loan. If you use the card wisely, it will
increase your credit score
.
Apply For A Loan With IIFL Finance
If you're looking for funding for personal or business goals, IIFL Finance can help. Various loans are available to suit your financial needs, including gold, business, and personal loans. Our hassle-free application process lets you customise our loans according to your needs. Apply today!
FAQs
Q1. What is the importance of maintaining a good credit score?
Ans. With a high credit score, you are more likely to qualify for loans and credit cards.
Q2. What is considered a good CIBIL score?
Ans. It is generally considered good to have a score above 700.