Best Ways To Improve Your Home On Low Budget
With escalating prices and a tight budget, there are many ways to redecorate your home in a cost-efficient manner with some simple hacks and refurbishing techniques
23 May,2018
07:30 IST
19 Views
160 Likes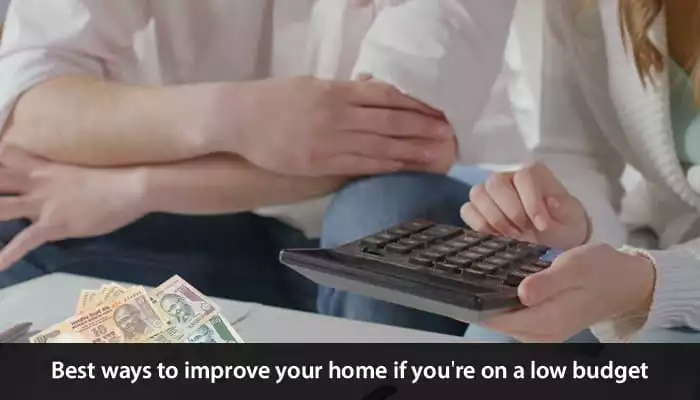 Best ways to improve your home if you're on a low budget
We would all like to keep our homes beautiful and up with the latest trend. However, to achieve this, we need to renovate. With escalating prices and a tight budget, we find ways for you to redecorate your home in a cost-efficient manner. These simple hacks to refurbish your home and accentuate its beauty effortlessly will not be too heavy on your pockets.
Living Room
When revamping your living room, focus on a single object and the other decorations/items should complement the said object. For example, if the home theatre system and the television are the primary objects, enhance it by adding framework that accentuates its presence in the room. Position the sofas and the other furniture to face them from any angle.
You do not need to purchase a new coffee table or any other furniture to redecorate your living room. A simple rearrangement would do the trick. You can even get rid of unwanted furniture while renovating. Just keeping change the furniture arrangement till you get your desired position.
Installing a new floor is a costly affair but there are cost effective innovative flooring methods as well. Instead, you can cover up your floors by adding a rug or a carpet that matches your room's color theme. The carpet will provide a new perspective on the place.
When picking items during renovations, we look for home decors that usually come with heavy price tags. These tags will put a dent in your budget. You can purchase these ethnic items from thrift shops, flea markets, or exhibitions at a low price.
Adding some potted plants or creepers on the windows will give a great look to your living room. It will also help keep the place cool during summers. If you are unable to keep plants, you can decorate the room by adding artificial plants that give a splash of color to its surroundings.
Kitchen
When you start renovating your kitchen, the first step is to organize and declutter your shelves. You can organize your kitchen by adding extra storage options like shelves or small hooks that help hang your utensils on the wall. This keeps your kitchen neat and gives extra room for other utensils.
When attempting a budget makeover, you can very well redo your entire kitchen cabinets. However, you could also paint your old cabinets and change their knobs to give them a fresh look.
Display your expensive crockery sets for all to see. You can arrange them in such a manner that it accentuates the look of your kitchen. You can also make an artistic impression by lining up your kitchen ingredients in a fun and quirky style.
Make sure that you have a personal touch in the kitchen. Hang a pin-up board or a blackboard to write or pin your recipes, food of the day, or to pen your thoughts while cooking. This board will draw the attention of your guests and brighten the mood.
Decorate your dinner table with beautiful or colorful napkins, place settings, salt and pepper shakers, or a beautiful flower vase. These little things will brighten up the place and give a new look to your kitchen.
Bedroom
Changing the lighting effect will give a new perspective and look to your room. You can also opt for DIY light projects and save on the extra cost of buying light fixtures.
You can maintain a simple theme exclusive to your bedroom. You can match the curtains, cushions, pillows and other accessories with the idea and give the room an alluring or relaxing vibe. You can also paint one side of the wall in a single color to elevate the look of your bedroom.
When redoing your bedroom, you can use the unwanted furniture from other rooms to give it an "extra-cozy feel". You can use an armchair or a recliner to add to the comfortability of your bedroom. This will also help you save on extra furniture and space.
Bathroom
Bathrooms do not require much effort. You can spruce up the look by adding some decorative items or by painting your sink or cabinets in a bright color. Replace the shower curtains, mats, soap cases, or the hanging rods to give a facelift to your bathroom. These items will also not dent your pockets.
Your bathroom should look neat and tidy. To achieve this effect, add some shelves or other storage options to keep your bath essentials neatly. Do not overcrowd your bathroom with features as they tend to spoil its look.
When planning your home renovation, plan according to your requirements and make your home more beautiful and functional. These cost-effective ideas will help you renovate your home on a tight budget.