Innovative Flooring Ideas
Innovative flooring ideas add sheen to the home decor of your new home.
23 Jan,2018
04:45 IST
78 Views
280 Likes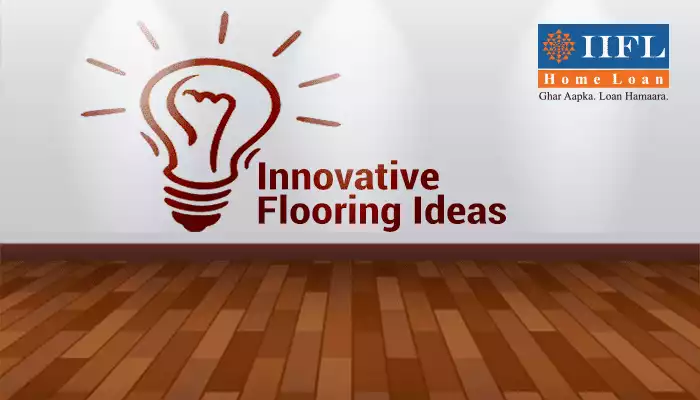 Innovative Flooring Ideas
Floors in the house not only play an important role in the structuring but also in aesthetics. Often the expert designers say that flooring of the space is an important aspect of the aesthetic appease. Designers often tend to experiment with different styles of flooring in order to set the mood of the space in a theme. This way different kinds of flooring patterns and styles come into existence. They not only appease the mood of the occupants but also serve the purpose as per the requirements.
Let us explore few innovative flooring ideas which can brighten up any space.


Concrete flooring: Though concrete flooring is a very old technique, still it gives a raw and contemporary edge to space. It is quite affordable and requires just basic polishing. Concrete flooring is tough and long lasting and hence is used in many affordable housing schemes. It has been in use since the olden days, but at that time it was used in industries, warehouses, and prisons. Today, concrete flooring is one of the most innovative flooring ideas for those who are looking for a contemporary, raw or minimalist kind of décor. It gives a rustic look and goes very well with contemporary furniture.





Parquet wooden flooring: This was first used in the palace of Versailles and since then had been used as an innovative flooring idea. You get various options while laying a parquetry such as cherry, oak, walnut or pine wood. This not only gives a traditional warm look to the room but looks classy in every bit. It requires proper care else the glamour could be short lived due to fading, chipping or blemishing. Parquet wooden flooring looks contemporary and goes well with the traditional vintage style furniture. This kind of flowing has been used in sports arena as well. TD Garden in Boston, Amway Center in Orlando and Target Center in Minneapolis are best known examples.





Oriented Strand Board (OSB) flooring: Oriented Strand Board which is popularly known as OSB also makes a good flooring option. It helps you get the flooring done on your budget. The flooring remains durable with a rustic textured finish. The flooring gives a countryside look to your floor with its raw texture. To have a more refined or finished look, you can sand it and apply more coats of varnish. An OSB flooring blends well with vintage style furniture to give it a countryside look.





Resin Flooring: If you are looking for a durable and long lasting floor, opt for resin. It is stronger and more elastic, thus can bear impacts of force and weathering. It gives a smooth glossy effect to your floor. Resin flooring is advised if you are looking for an eclectic and durable kind of flooring in pocket friendly option. It gives a clean, modern and edgy look to your room. Due to its flexibility, it can easily fit in any kind of oddly shaped room, where other options might be difficult to be laid.





Tiled flooring: It is one of the most widely used floorings today. If you thought it to be boring in a conventional way, you can try out new innovating ways such as mix and match style or mosaic to give a new interesting twist to your flooring. Using different kinds of tiles can help you create the right aesthetics according to the theme of the room. With mosaic, give it a Boho, traditional or Moroccan kind of look. For a more eclectic look, go for glazed floor tiles. Different styling of tiles can give a facelift to your room in different shades.



These innovative ideas for flooring could be well implemented as per the taste and requirement to beautify the aesthetics of the space.