Affordable Housing: Consumer Movements & Awareness
Affordable Housing Scheme: Know about how the housing loan finance is taken care of in Consumer Protection Act, 1986, and the rights a consumer has while going for a new home.
21 Dec,2017
02:00 IST
85 Views
647 Likes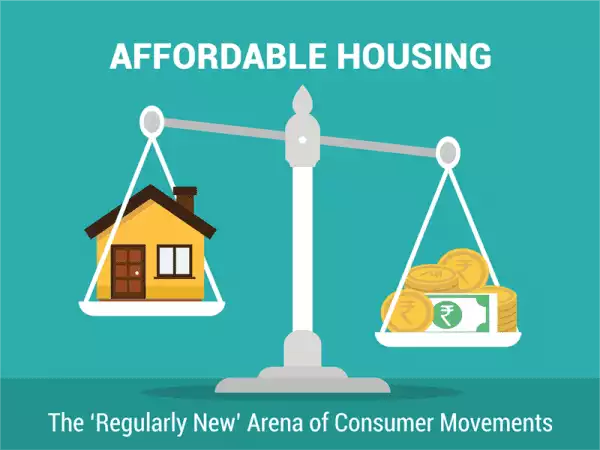 Affordable Housing: The 'Regularly New' Arena of Consumer Movements
According to Philip Kotler and G. Armstrong, "Consumer Movement" is defined, "Consumerism is an organized movement of citizens and Government to impose the rights and powers of buyers in relation to sellers".
The word Consumerism includes, "Consumer" meaning the user or customer and "ism" meaning "movement", and hence, consumer movement is commonly known as "Consumerism". Consumer Movement, the king in modern marketing, is on the top, as every attempt is made to ensure satisfaction and sovereignty of the consumer. Moreover, protecting the interests of consumers has become one of the paramount concerns in this movement which is also the basic idea behind the said movement. Another important objective of consumer movement is to initiate a fight for consumers against harmful and unsafe products produced by manufacturers and sold by traders. To meet the goal of a welfare state, government also holds the responsibility of framing policies and implementing them righteously. The government has a responsibility to set up Consumer Forums to meet out the objectives of Consumer Protection Act, 1986 (hereinafter referred to as 'The Act'.
The Salient Features of the Act are as follows:
To provide better protection for consumers.
To provide setup of Consumer Councils.
To make awareness and provide consumer education.
No strict procedural rules.
No need of Lawyers to conduct case.
Provisions for appeal.
The doctrine of Caveat Emptor has been recognized and applied.
The single largest purchase that most of the consumers ever make is for a house they can call home. In the age of urbanization, the housing industry is developing expeditiously. Many Government initiated and controlled affordable housing projects have come up all across India in recent years. In this, the key players i.e. the builders, contractors, promoters, and developers, along with their agents are making most of this situation by deceiving people who contact them with a desire to buy a house or a plot of land. Therefore, the Act provides protection to housing industries as well. Moreover, section 6 of the said Act includes the term 'service' which includes 'housing construction'.
Similar to any other industry, consumers play a crucial role in the management of affairs of this sector as well. Real Estate agents implement deals with the sole purpose of charming the consumers into buying what they sell. Therefore, consumers are prone to a lot of vulnerabilities. Consumers often look out for home loans and other options fulfill their desire of buying real estate. This creates multiple chances for some agents to indulge in certain malpractices at the cost of the safety of the consumers. They may sell the consumers a plot of land which is below the agreed standards by means of misrepresentation or deceiving advertisements. With the intention of making more money, such agents take advantage of the lack of knowledge on part of consumers.
The real estate industry is highly progressive in nature but it is also immensely unregulated and lacks the required ethics. The primary reason for this irregularity are the agents who are widely concerned with providing information which relates to themselves, and not the consumers. The same misleading information is given out to the Government and the consumers which hinder the benefit of the consumers. Thus the real estate buyers are prone to a higher degree of risk as compared to consumers in the sectors of the economy.
Consumers are given legal protection with respect to real estate sector by means of legislation such as Consumer Protection Act, 1986, Indian Contract Act, 1872, Specific Relief Act, 1963, Indian Penal Code, 1860 and Competition Act, 2002.
Consumers are given legal protection with respect to real estate sector by means of legislation such as Consumer Protection Act, 1986, Indian Contract Act, 1872, Specific Relief Act, 1963, Indian Penal Code, 1860 and Competition Act, 2002.
To epitomize, the consumers should know that for issues related to possession and allotment of the property, the Hon'ble Supreme Court of India and the National Commission have granted payment of interest up to 18% as compensation. Also, the rate of interest from allottees of land need to be charged on simple interest basis and not on a compound interest basis. Consumers have the right to claim compensation if the land allotted to them is of an inferior standard or defective. Consumers should be careful and should not fall for news and information provided them without any investigation. Proper investigation and verification of the source of the news will definitely keep them rightfully informed.
-By Shalika Satyawakta and Nimisha Nandan
Shalika Satyawakta, is a part of Central Legal Team of HFC-IIFL. Otherwise, she is a dreamer but also an idea architect and a teller of stories which will surely help you in understanding more about Indian Laws and its practices.
Nimisha Nandan, is a part of Central Legal Team HFC IIFL. When she commits something to write, she gets the same as a deal, as she enjoys this and it is a part of her hobbies.