Advantages to Women Applying for Home Loans
Women avail various benefits from banks and private lending institutions which gives them an advantage while applying for home loans.
23 Jan,2018
03:00 IST
71 Views
274 Likes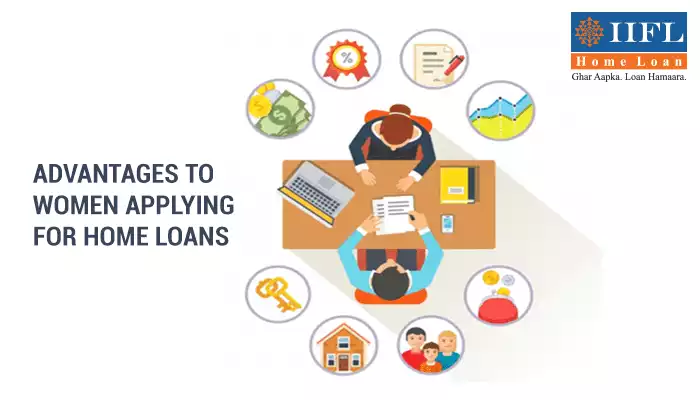 Advantages to Women Applying for Home Loans
Women are termed as the homemakers in our society. Keeping this in mind and to empower women, various institutions have decided to keep it easier for women by providing them with additional benefits while buying their homes.
This step would give women independence and confidence in the financial matters to great extent. With these benefits women could find it easier to own a house, leading to their financially secured futures.
Some of the benefits provided by the banks and other institutions to women buying their house are:
Concession on interest rates: Almost all the banks and NBFCs (Non-Banking Financial Company) give women a concession on the interest rates while applying for home loans. Researchers say women are more disciplined in terms of paying dues and are less likely to default as compared to men. Moreover, concession on the interest rates is also a part of the social cause to empower women and make them financially secure and independent, thereby increasing their social status. Most of the banks and NBFCs provide a concession of 0.05-1% on the rate of interest for women. Although, this might seem a very small difference as the principal amount of loan is mostly hefty (mostly in lakhs and crores), this concession really makes up a good amount.
This would, in turn, result in lighter EMIs (Equated Monthly Installments) and thus could be proved beneficial for women. Here is the comparison of the rate of interests provided by different leading banks to men and women.
| | | |
| --- | --- | --- |
| Lenders | Interest Rate p.a. for women* | Interest Rate p.a. for men* |
| State Bank of India | 8.30% | 8.35% |
| ICICI Bank | 8.35% | 8.40% |
| HDFC Bank | 8.35% | 8.40% |
| IIFL HFC | 8.45% | 8.50% |

*Rate of Interest per annum for an amount up to Rs. 30 Lakhs.
Stamp Duty for registration: Stamp Duty for registration of the house is also available at concession for women in many states. This step has increased the number of women owning a house. It ensures a higher a social status of women and also their future security. The stamp duty charges could be 1-2% lower than those applicable to men. While it might appear a small concession but it turns out to be a good amount, as the cost of the property remains higher (mostly in lakhs and crores). So, on a property of Rs 50 Lakhs, a woman can save up to Rs. 5,000-10,000 on stamp duty.
Tax Deduction: Women could also get tax benefits from their home loans. It helps them in, efficient tax management and reduces their taxable income up to Rs. 3.5 Lakhs through home loan repayments. Out of this amount Rs. 1.5 lakhs is the maximum limit that could be paid as interest on loans. Thus, home loans also benefit from tax deductions.
Loan approval: Women tend to get their loans approved easily as compared to their counterparts. With a good credit score and all the required documents lined up, a woman applicant can easily get her loan approved. The reason being women are considered as less risky borrowers and have lesser chances of default then men. This has been suggested by the research that women tend to be more responsible in paying dues in time. And thus if you have the first applicant or a co-applicant as a woman, then the chances of getting your loan approved remains higher.
Conclusion:
With the above benefits, institutions have helped women in buying their own house and securing their futures. This has not only helped them financially but also increased their social status with a more active participation in the financial matters of household and property ownership.