Where Can I Get A Doorstep Gold Loan In Mumbai?
With an increase in demand for gold loans & to make things easier amid the pandemic, doorstep gold loan was launched. Read to know where you can avail this easy gold loan in Mumbai!
9 Dec,2022
12:08 IST
15 Views
12 Likes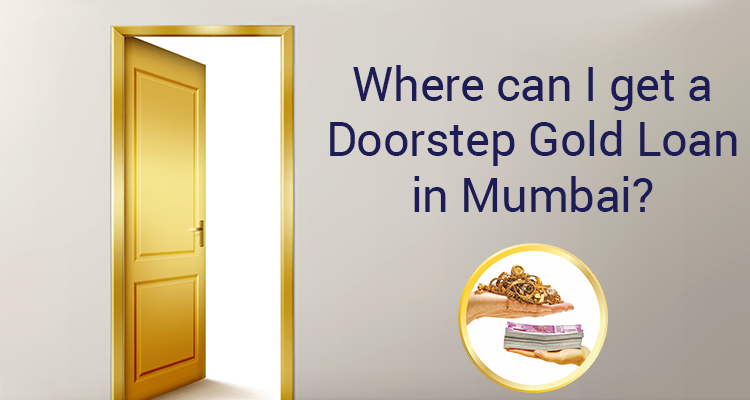 Gold jewellery–you can wear it with pride or encash it when in need. A gold loan is an easy way to fulfil your financial requirements. With technological advancements and the ease of availing of financial services at your fingertips, you can get a gold loan at your doorstep.
What Is A Gold Loan?
A gold loan is a credit facility that offers funds against gold ornaments, making it a secured loan type. Gold loans are multi-purpose and have no usage restrictions. It is an easy way to meet your financial needs at a relatively low cost and convenient enough to avail of a gold loan at the doorstep. You must fulfil the eligibility criteria to get a doorstep gold loan.
You can get up to 90% value of the gold you pledge at your doorstep.
Where To Get A Doorstep Gold Loan In Mumbai?
Most lending firms provide doorstep gold loans in India today. You can opt for a traditional bank, an NBFC, or even a fintech firm to avail of a doorstep gold loan. For example, you can book an appointment with IIFL Finance to avail of a gold loan at your doorstep in Mumbai. A loan manager shall visit your place to conduct the due diligence to verify your gold.
You must keep your collateral, ID proof, address proof, and other required documents ready while applying for a gold loan procedure at your doorstep. The doorstep gold loan processes are quick, and you can get the funds immediately after the approval in your bank account.
What Are The Eligibility Criteria For A Doorstep Gold Loan?
Depending on the lender, the eligibility criteria may vary. The primary gold loan eligibility includes the following.
• Any Indian citizens above the age of 18 years are eligible for a gold loan. The age barrier varies from lender to lender.
• By profession, the borrower can be a salaried person, business person, or self-employed professional, including farmers and traders.
• The acceptable gold ornaments include any item with a purity range of 18-24 carats.
What Are The Documents Required For A Doorstep Gold Loan?
Majorly only three types of documents are required for a doorstep gold loan.
• ID proof:
Driving license, PAN card, passport, Aadhar, or Voter ID card
• Address proof:
Rent agreement, passport, or any other utility bills • Passport-sized photograph
How Does The Collateral Evaluation Work?
The visiting loan manager will weigh your gold at home and use standard industry tests to ensure purity. The Reserve Bank of India capped the LTV (Loan to Value) on gold loans at 90%. Suppose the derived value of collateral money is Rs. 1 lakh. You can get a maximum loan amount of Rs. 90,000.
Lenders accept gold jewellery of purity 18 carat and above. They specifically consider the gold portion to calculate the value when pawning gold jewellery. Lenders exclude metals, stones, and precious stones from the calculation. Most lenders do not usually accept gold bars, coins, or broken gold jewellery.
Your gold loan takes only 30 minutes, and you can immediately get the credit amount to your bank account.
What Is The Difference Between Borrowing From A Bank and An NBFC?
When you apply for a gold loan from a bank or NBFC, you accept the interest charged and deposit gold according to the loan amount.
However, with NBFCs, multiple mediators might handle each gold loan. Therefore, you can choose a gold loan from a partner bank and, depending on the loan amount, compare parameters such as interest rate and pure gold required for the pledge.
For example, gold jewellery interest rates and valuations vary by the partner bank. If you go directly to your bank, they may offer gold loan services at your doorstep. But, you may need help from NBFCs to get lower interest rates.
Avail Of A Gold Loan With IIFL Finance
IIFL Finance offers
gold loans at your doorstep
, where you get the amount within a few hours of your application. We process gold loans at your doorstep within 30 mins of the procedure, and the loan amount gets credited immediately to your bank account.
Frequently Asked Questions
Q.1: What is the gold purity required for a gold loan?
Ans: The eligibility of gold purity for a gold loan ranges between 18-24 carats. It is noteworthy that most lenders do not accept a gold bar for a gold loan.
Q.2: What is an LTV ratio?
Ans: Loan-to-Value or LTV ratio is a financial ratio that compares the borrowing amount to the asset's market price. The Reserve Bank of India has set the loan-to-value ratio for a gold loan at 90%.
Q.3: Are doorstep gold loan reliable?
Ans: Almost every bank or NBFC provides a doorstep gold loan to borrowers. If you book your appointments through the correct website, there should not be any trust issues with the lender. Always check with the bank and the ID proof of the person visiting your home for verification.