What all can I do with my DEMAT account?
Demat account helps to operate your Mutual Funds, ETF's, Bonds & Debentures in a single window. Know about the benefits of having a Demat Account with IIFL.
6 Dec,2019
01:45 IST
632 Views
1158 Likes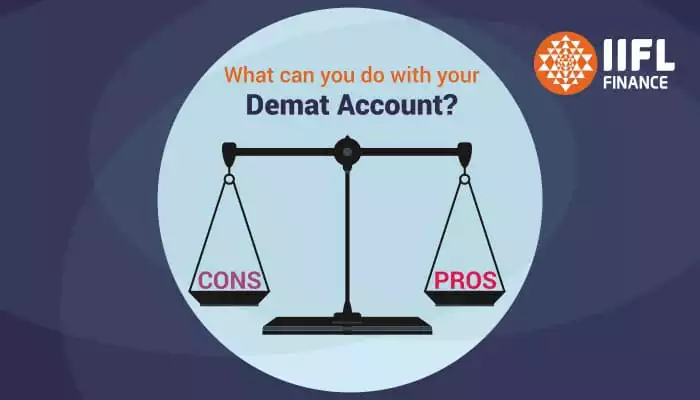 The introduction of Demat accounts in 1996 was a historic moment and a turning point for the Indian stock market. That was the first time when physical shares were converted into electronic form and electronic trading was recognized. This change that occurred more than two decades ago forever changed the face of the country's financial market.
According to data available from SEBI, there were a total of 34.8 million DEMAT accounts in 2018 with 4 million new ones opened in 2018 itself. This is the highest number of new accounts opened in a single year in a decade.
Since the demonetization move of 2016, India has seen a sudden spurt of retail investors showing interest in the stock market. It shows that they are moving from traditional investment instruments such as gold and real estate, and investing more in equities, mutual funds and derivatives.[1]
Why open a Demat account?
A Demat account is a prerequisite for investing in the stock and derivatives markets. Not only that, you can convert mutual funds, exchange-traded funds (ETFs), bonds and debentures into electronic form with Demat services and track all your investments from a single window. Plus, it's easy to trade and transact with a Demat account and you have complete security of your investments.
Here are some handy uses for your DEMAT account:
Take a loan against securities
If the securities in your Demat account are of some substantial value, you can take a loan against securities to avail money in times of need. The good thing is that even when you pledge the stocks in your Demat account as collateral, you still enjoy ownership rights to these stocks. You can still receive dividends, bonuses, and rights on these stocks owned by you.
Trade with margin against shares
Some brokers allow investors to trade in the market using the shares in the Demat account as margin funding. Known as collateral margin, this is a value-added service provided by the broker. The broker may charge some interest on this loan but it gives the investor an added leverage to profit from the markets by utilizing shares lying in his Demat account.[3]
Enjoy tax-free earnings
The dividend income that you receive on your Demat account is tax-exempt up to Rs. 10 lakh if the company has paid Dividend Distribution Tax as per section 10(34) of the Income Tax Act. If you have invested in debt and equity mutual funds, the dividends received on your Demat account are also non-taxable as per section 10(35) of the IT Act.
Benefits of a Demat account
Holding an asset in Demat form has several advantages. Speed, accuracy, and efficiency are some of the advantages of using new technology over a traditional system. A Demat account has similar advantages over the physical transfer of documents.
Some of the major advantages of a Demat account includes:
Mobility – Demat services give you access to the markets and your portfolio anywhere in the world at any time. Since you are connected 24x7 to the internet with a smartphone, you just need to login to your account to invest, trade or track your investments.
Liquidity – Selling securities (liquidity) at the right time to make a profit or cut down losses was a challenge with physical shares. But that is not a problem with a Demat and trading account. Today, you can place a sell order and get it executed within a few seconds before any significant price movement occurs.
Single platform – With a Demat and trading account, you can invest in mutual funds and trade in equities, derivatives, and currencies through a single platform. For instance, an IIFL Demat and trading account gives you access to industry-leading trading platforms and personalized portfolio analysis. With an IIFL Demat account, you also get entry to various market segments of BSE, NSE, MCX, and NCDEX.
Eliminates risks – Demat accounts eliminate the risk of theft, damage, counterfeit documents and delays in share transfers, normally associated with physical trading. Storage of securities and other investments in electronic form is easy, convenient and safe with a Demat account.
Speedy processes – Crediting of dividends, refunds and interest to the investor's account is easy with a Demat account while it was a lengthy process earlier. Investing in IPOs and receiving bonuses, dividends, stock splits, rights, etc, are faster and more convenient with a Demat account.
If you are planning to open a Demat and trading account, opt for an IIFL Demat account. IIFL is among the select few brokers that offer Demat services for both NSDL and CDSL. The Demat account holder also gets access to IIFL's proprietary TT EXE, TT web (desktop) and IIFL markets app for transactions. Additionally, IIFL provides dedicated relationship managers to assist high net worth individuals (HNI) in trade execution and provide them expert advice to make bigger gains.
For more information on Investment, Insurance and Personal Finance topics, do follow IIFL Finance on Facebook, Twitter and Subscribe to our YouTube channel
References:
https://www.livemint.com/market/stock-market-news/new-demat-accounts-scaled-decadal-high-in-2018-1549904354490.html
https://economictimes.indiatimes.com/markets/stocks/news/the-call-of-the-market-investors-open-record-no-of-demat-accounts/articleshow/63326014.cms
https://www.chittorgarh.com/article/margin_against_shares_in_demat_account/107/