'Tis the season to be financially savvy!
Exchanging gifts is a central theme of Christmas celebrations. This Christmas, give the gift of financial security to your family by investing in mutual funds.
20 Dec,2019
06:45 IST
148 Views
1198 Likes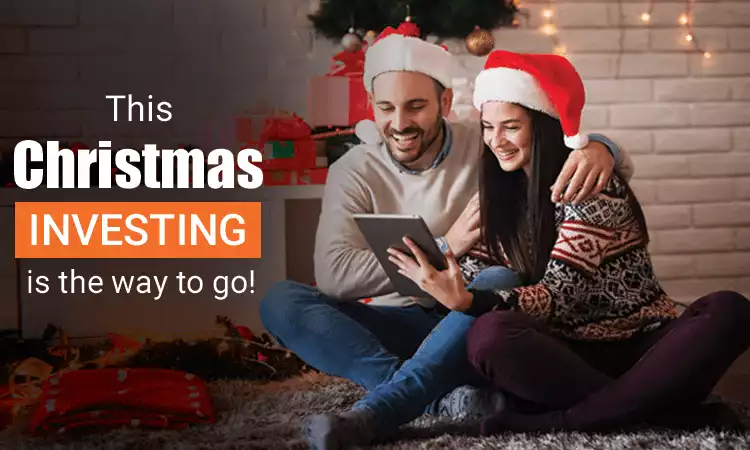 The air has turned chilly, signalling the end of this year and the start of a new one. But there will be one last celebration before the start of the new year. Christmas is right around the corner and people are already busy planning a get-together with family and friends. Along with family reunions, exchanging gifts is a central part of Christmas celebrations for many. Rather than buying expensive gifts, make an investment this Christmas and gift your family financial security.
The choice of investment often confuses people as there are a variety of options available in the market. You can invest in stocks, bonds, fixed deposits, savings schemes or mutual funds. Some of the factors to consider before investing during Christmas are the returns, risk, convenience and diversification of the investment. Taking all the factors into account, mutual fund investments are one of the best investment options this Christmas.
Additionally, with mutual funds investment, you would be giving your family multiple gifts:
Gift of financial security: Mutual funds are of various types, ranging from equity funds and debt funds to hybrid funds. Mutual funds can be used to provide a financial security net to your family. A balanced fund can be used to create wealth over a period of time with investments across asset classes. Balanced funds invest in a mix of equity and debt. Equity investments boost capital appreciation, while debt investment provides stability. Investing during Christmas would be fruitful with balanced funds as they would provide adequate returns with manageable risks. In fact, balanced funds have gained popularity in the last few years. In 2017-18, balanced funds had witnessed a net inflow of Rs 58,000 crore.
Gift of affordability: Everyone doesn't have spare sums of money lying around to invest in financial assets. With mutual funds, you do not have to worry about investing a substantial amount as a lump-sum. If your aim is to build a large corpus over a long time, Systematic Investment Plan could be the ideal option. Mutual fund SIPs don't require you to invest a large amount at once. You can start with as low as Rs 500 and continue monthly payments to build accumulate a considerable corpus.
Gift of a stress-free life: While there are a plethora of investment options available in the market, most require deep research and constant monitoring to get desirable results. Mutual fund investments too require monitoring, but regular monitoring is not necessary. Professional fund managers take care of the research required for investing in equities or debt. Mutual fund investments are diversified across companies and asset classes which significantly reduces the investment risk. Mutual fund SIPs can help you and your family live a stress-free life without the need to worry about proper diversification or market fluctuations. The confidence in mutual funds can be gauged by the stability of inflows, even when the broader markets have witnessed volatility. Total Asset Under Management of the mutual fund industry inched up by a percent to Rs 25.68 lakh crore in the September quarter. The asset base had increased by over 4% in the previous quarter.
Gift of tax savings: Paying income tax honestly is an obligation for every earning citizen of India. However, you can reduce tax liability with smart investment decisions. Mutual funds can be an efficient tool for reducing your tax burden. What if investing during Christmas could help you minimize your tax outgo? It is possible with Equity Linked Savings Schemes (ELSS). ELSS funds invest in equity markets which can deliver handsome returns in a few years. Earlier, ELSS investments were tax-free, but long term capital gains tax was levied on them in 2018. Even after a 10% tax on gains of over Rs 1 lakh, ELSS funds remain one of the best tax saving options available in the market.
Gift of a happy retirement: You may work for a limited number of years in your life. While working, one has to take care of the present as well as plan for the future. Everyone wants to have a happy and financially stable post-retirement life, but it requires investments with a long-term focus. You can gift yourself and your spouse a fulfilling retirement by investing in retirement-focused mutual fund SIPs. With equity-based mutual funds invested for a long term period, you can expect average returns of up to 10-12%. If you opt for long-term funds, you can take advantage of a longer lock-in period, which can help you ride out market volatility. What's more, if invested in for the long run, mutual fund SIPs can also help beat inflation.
Conclusion:
Make a difference this Christmas by choosing to invest in a mutual fund for your family rather than buying them expensive gifts. The best mutual funds will provide diversification, adequate returns and ample flexibility. You can invest in the mutual fund SIP of your choice through the IIFL, which gives you the option to invest in schemes from over 42 asset management companies. IIFL also provides portfolio rebalancing and financial planning advisory to help you in your investing journey.
References: