Sustainable Development - Perception to Execution
Sustainable Development - Perception to Execution
28 Sep,2020
01:30 IST
392 Views
709 Likes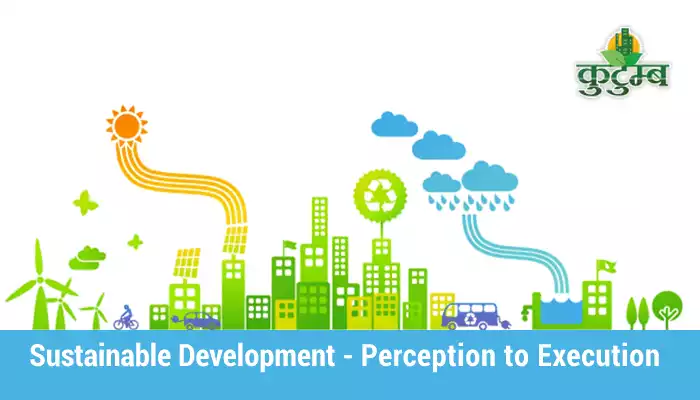 Indian culture and traditions can be traced back to 5000 years, through scriptures and texts. The rich information varies from astrology, medical surgery to modern mathematics, aeronautics, and passive architectural techniques; developed through the ages, generations, dynasties and cultures. The elements from different places of the world influenced Indian architecture and building design greatly. The best elements through the various climatic zones have been incorporated and transformed to meet the typical climatic variance of India traditionally.
The globalization and rapid infrastructural growth introduced India to state of the art technologies which have been implemented as it is over 20 years. Construction industry being the major consumer of energy has to take greater responsibility in rectifying the issues pertaining to the technologies which are old or been phased out. The rich heritage and traditional building designs have been compromised to design approaches without considering the impact of regional or local weather conditions. The face of the Indian cities has transformed to a model which does not represent its culture, geography or topography. The model which has been implemented is highly unsustainable and does not
complement the climatic variations in India.
The vision of futuristic cities in India cannot be fulfilled by living in an unsustainable model, which does not utilize the inheritance which has been bestowed upon them from thousands of years. This model of building design will not only compromise the environment but also will neglect the rich experience of passive architecture in Indian tradition. Over ages, India has adopted the best of the technologies all around the world and transformed the way they have built. Today, for a sustainable future, same intent is required; to adopt futuristic technologies through traditional passive architecture.
There are multiple gaps at different stages of project execution, starting from awareness and understanding of sustainability to misconception and execution anxieties during construction. At IIFL Home Finance Limited, we are attempting to address both these issues through "Kutumb - An Initiative Towards Green Affordable Housing", with an execution model of "Green Value Partner". Creating a growth story requires a closed loop and a support which not only encourages or gives pat on the back, but also gives an honest opinion with specific structure. Kutumb provides a platform to share ideas of implementing sustainable development, and the Green Value Partnership program ensures that these ideas are executed. The amalgamation of technology with traditional wisdom is the primary objective of GVP and we ensure that these initiatives are useful to the developer without incurring the additional cost to the construction."Sustainable development is the pathway to the future for all, it offers a framework to generate economic growth, achieve social
justice, exercise environmental stewardship and strengthen governance." Ban Ki-Moon (Ex-UN Secretary General).
Amor Kool