Read About Home Decor Ideas for Small Spaces
Learn how to use the creativity to turn your living room into a piece of art. Read IIFL Finance Blogs to learn the most common and easiest ways to make a small space look larger and attractive.
28 Dec,2017
04:00 IST
41 Views
1053 Likes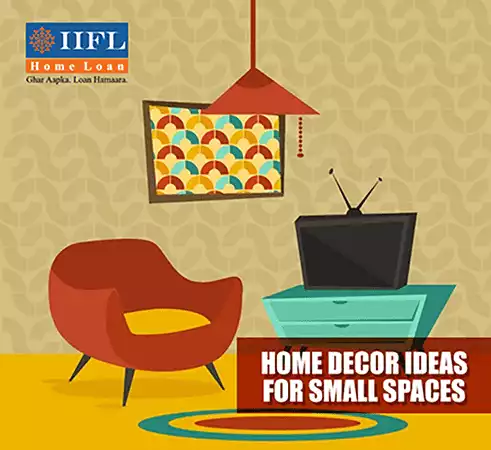 Fixing Your Home Decor: Deco Ideas for Small Spaces
It's not about living in a mansion or small apartment, the key to turning your living room into a piece of art lies in your creativity. Small living spaces often turn into spacious classic decors with just a pinch of creativity. Your trickling ideas can open the Pandora's box and turn that cramped and crooked space into one that is pleasing to the eyes and cozy to heart. Decorating your small room can make quite a difference in the appearance of your home. Here are some creative ideas that might just turn up the comfort and pleasant quotient of your home.
The most common and easiest way to make a small space look larger and attractive is to use light colours and natural light. Having some mirrors in the room is a great way to reflect natural light entering the room and creating a positive ambiance. Since your room is small, there is not much for the eyes to see. Now here is the catch, placing some artwork on the wall will make the eye go around the room. Though your room is small this makes the mind believe that you are standing in the middle of not just an artistic but also a large room. Light coloured or printed curtains, hanging from floor-to-ceiling, viola a lovely way to decorate the room. There is a trick to make your room artistically large and beautiful. You can use neutral colour schemes that make the room appear more lively. For instance, you can have three walls light coloured and one dark. The walls appear to be pushed back and this colour combination also creates a calming environment.
Once the painting and flooring are done, the next step is the furniture. Avoid placing furniture and other objects in the middle, rather place them at the corners and leave some empty space in the middle. Try to make the most of whatever room is available to you. You could have a sofa cum bed, these days many attractive options are available in the market. If the room belongs to kids, you can have bunk beds which double up as a necessity and decorative item. Try to go for a furniture that doesn't appear too bulky and has a relatively lesser visual weight. Instead of 'blocky' furniture, opt for framed one. Metal frames with light colours should be at the top of your furniture shopping list. Go for light coloured frames that have legs and if possible choose coffee or end tables that have glass tops. Opting for materials that allow light to pass through make your room appear large and aesthetically appealing. And to support the cost of the renovation, there is always the facility of https://www.iifl.com/home-loans/home-improvement-loan" target="_blank">home improvement loans!
So, what is your big deco idea for a small room?