Points to Keep in Mind If You Are About to Retire and Want a Home Loan
Availing home loans if you are in your mid 40's or 50's will become easier if your keep a few important points in mind.
25 Jan,2018
04:15 IST
19 Views
364 Likes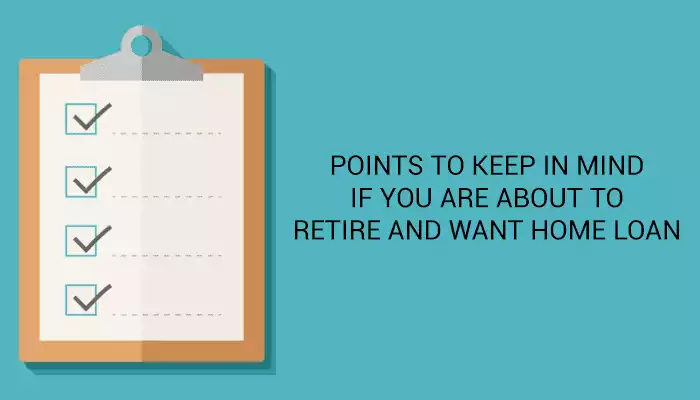 A home loan is an important liability in every individual's life, not only because it is substantial in terms of the quantum, but also because it is possibly of the longest tenure. At this stage, you may have reached a higher rung in your career with a better salary grade. But you have also reached closer to your retirement age and may be saddled with several responsibilities like taking care of aged parents, meeting the expenses of children's higher education etc. which may bring a financial strain on you.
Nowadays, working professionals have started purchasing a house within the first few years of beginning their career. But what if you have missed the bus and wish to apply for a home loan after you turn 45?
Points to Keep in mind if you are about to retire and want a home loan:
1. Shorter tenure
If you plan to retire at the age of 60, you will have about 15-20 years to repay the home loan. This necessarily means shorter loan tenure and bigger amounts of EMI payments.
2. Go for a joint loan
Availing a joint loan with your working spouse or one of your financially independent children will not only result in you being eligible for a higher home loan amount but will also reduce your EMI outflows individually.
3. Larger down payment
Go for a larger down payment to reduce your repayment outflows. This ensures you pay lower EMI and lower interest component. Also, avoid using funds that you have set aside for emergencies.
4. Research your options
Researching the home loan options in the market is important at any age. However, when you take a new liability after 45, it becomes all the more important, as you have other important goals coming up and even a 50bps differential in the interest rate can make a difference.
The cost associated with a home loan is huge and the decision of taking a home loan requires a lot of brain storming. However, if you have missed this stage, don't fret. You can get a home loan even in your 40's; just use these few pieces of advice in order to become a homeowner!