Pointers For First-Time Home Buyers
Planning to buy home for the first time? Then read this article by IIFL Finance to know the important pointers you must know while buying your dream home!
25 Apr,2018
04:00 IST
45 Views
328 Likes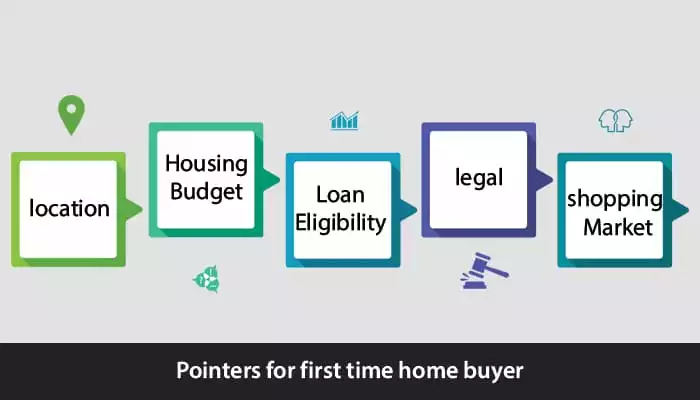 Buying a home for the first time is as confusing as it is exciting. While it marks an important milestone in a person's life, a wrong decision in this regard could be really costly.
In order to make the decision of owning your first house a beautiful memory, here are a few pointers you could consider to get it right.
Note down how you want your house to be: This is the starting point. It is important that you know what you want even before you start house hunting. In order to do so, it is very necessary that you note down all the basic requirements and functionalities you would want in your new house. This note would help you analyze and choose the right option when house hunting.
Don't be unrealistic: The first house definitely means a dream come true, but it is very important that one remains realistic at the same time. Nothing is perfect and you must know when to draw the line. Having unrealistic expectations could prove to be a hindrance in your house hunting.
Draft your budget and plan accordingly: This is one of the most important things and should be done precisely. You need to know your budget, list down your assets and liabilities, understand if you would need a home loan, arrange for the down payment amount, and based on your current financials, work on the EMI (Equated Monthly Installment) calculations. Going over-budget should be a 'Big No', as buying the house is not the only goal, it is just the first step. Maintenance, lifestyle, and other daily expenses that follow should also be accounted for. Sticking to the budget is key, don't get overwhelmed and go over-budget, or you will be inviting problems in the future.
Ensure the availability of basic amenities: It is important that you make sure that amenities such as hospitals, markets, and schools are nearby and that the locality and the housing society is good enough for living long-term. Even water availability (especially during summers), regularity of power supply, society maintenance, and other amenities should be scrutinized beforehand to avoid any shockers later.
Check if the property is as per government standards: Often, builders show a different plan on paper, while the actual property appears different upon completion. Thus, it is very important to ensure that the property you are going to buy is as per the plans approved by the municipal corporation and is according to government-issued standards.
Enquire about the tentative possession dates: If you are booking a property in an under-construction building/colony, it is important that you know of the tentative period you will be given possession. The date of possession plays an important role in the stamp duty, registration, and home loan proceedings.
Read the documents carefully: Before you sign any paper, be it related to the property ownership or a loan application, it is very important that you know its content. Therefore, it is very important that you go through each and every line mentioned in the papers and get a clarity of the whole process before signing them or agreeing upon. This could save you from a lot of possible unforeseen issues.
Think long-term when making decisions: Buying a home is a long-term investment and is definitely not a regular affair. Hence, it is very important that you make decisions keeping the long-term consequences in mind.