How To Do A Free CIBIL Score Check With Your PAN Card
Using PAN card to check CIBIL scores helps banks identify individuals with multiple loans. Read to know how to check CIBIL score with PAN card at IIFL Finance.
20 Oct,2022
15:39 IST
148 views
15 Likes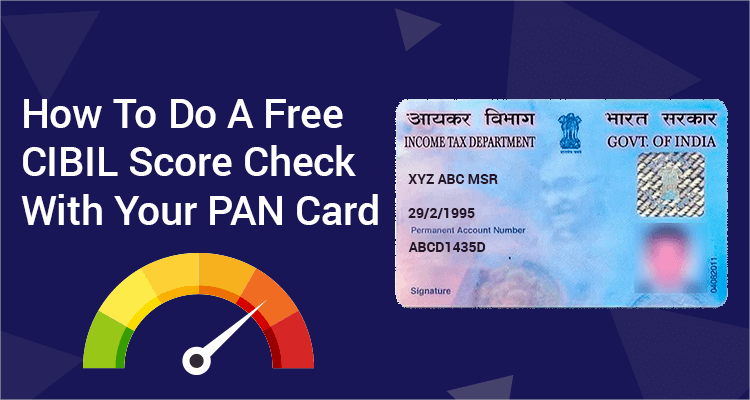 CIBIL scores are one of the most important factors lenders consider when determining your creditworthiness for a loan or a credit card. A CIBIL score ranges from 300 to 900, with scores between 750 and 900 considered excellent. Your chances of loan approval improve if you have a good credit score.
Regularly checking your credit report keeps you updated on your CIBIL score. if your score falls, you can figure out why and rebuild it in time. But how do you check your CIBIL score? What are the steps for a CIBIL score check? This blog explains and answers both questions.
Steps To Check CIBIL Score By PAN Card
Here are the steps you need to follow to do a
CIBIL score check free
online with your PAN Card.
1. Visit the official CIBIL website.
2. On the top-right corner of the landing page, you will find the 'Get your CIBIL score' option. Click on it.
3. If you want to subscribe to check the CIBIL score multiple times in the future, you can choose a subscription method. Alternatively, you can skip this step if you only need to check the score once.
4. The next page will ask you for your PAN number, gender, email address, date of birth, and a captcha code. Click on 'Proceed to Payment' once you have filled out all the relevant text boxes and acknowledged the terms and conditions.
5. Choose the payment method that suits you best.
6. Upon completing the above step, your CIBIL score will appear on a page.
Note:
You can only access the
CIBIL score
for free once a year. More than one credit score check requires a subscription and a fee.
Why Is A PAN Card Necessary To Check The CIBIL Score?
You need a PAN card to check your CIBIL score for several reasons.
• PAN cards contain all the information about your bank accounts and finances.
• You can only use your PAN card number to verify your identity and credit history. The PAN number helps bureaus track and retrieve your credit information easily as it is unique to you.
• Your PAN card is linked to your Aadhaar card. Therefore, using a PAN card to check CIBIL scores helps banks identify individuals with multiple loans.
How Does A PAN Change Affect CIBIL Score?
As long as your PAN card number remains the same, it won't affect your CIBIL/Credit score. However, if your PAN card is stolen or lost and you request a duplicate. It is advisable to surrender one PAN card if you have two to avoid any issues.
Additionally, applying for a new PAN card might impact your credit score. Your credit score is derived from your credit history linked to your existing PAN card. Hence, you may see a red flag on your CIBIL record if you apply for a new PAN.
Benefits Of Checking Credit Report Regularly
Regularly doing a
CIBIL score check online
can provide you with the following benefits.
1. Understand How Your Actions Affect Your Credit Score
Monitoring your credit score can help you stay on top of your finances. By doing this, you'll be able to determine whether your actions positively or negatively affect your credit score. When you know what may lower your credit score, you can avoid it and maintain a high CIBIL score.
2. Ensure Accuracy In Information
There are times when an error or inaccuracy in your credit report can result in a low credit score. In this case, you should immediately contact the credit bureau and your bank to resolve the issue.
3. Get Better Loan or Credit Card Offers
Checking your CIBIL score at your convenience will keep you updated on your current financial situation. Based on this information, you can determine if you are a low-risk applicant and if you are eligible for new credit.
Typically, the lender determines the interest rate and the sanction based on your credit profile. High credit scores can benefit you as they open doors to better credit facilities with affordable interest rates, rewards, and other benefits. Therefore, you should monitor your score frequently and only apply when your profile is in your favour.
Factors Affecting Your CIBIL Score
Several factors affect your CIBIL score, including the following.
1. Bad Payment History
Missing EMIs or repeated late repayments can negatively affect your CIBIL credit score. To maintain a good CIBIL score, you must continue to make your EMI and credit card payments on time.
2. Multiple Hard Enquiries
When lenders want to evaluate your credit report for lending consideration, they make a hard inquiry. When you make too many hard inquiries within a short period, you appear to be a credit-hungry customer, which entails a high-risk factor. Many lenders reject or offer extremely high-interest rates when faced with high-risk profiles.
3. High Credit Utilisation
You may have a low credit score if you have a high credit utilisation ratio or max out your credit card frequently. Maintain a credit utilisation of no more than 30% of your total credit limit. Your lack of credit-hungry behaviour shows that you are unlikely to become a defaulter.
4. Right Credit Mix
You will likely improve your credit score if you have a balanced mix of secured and unsecured loans (such as a car and home). You should keep a close eye on your unsecured loans. However, it does not significantly impact your credit score. Hence, getting a secured loan is not necessary just because you have more unsecured loans than secured ones.
Apply for A Loan From IIFL Finance
As one of India's leading financial service companies, IIFL Finance provides customised and comprehensive
business loans
to meet your capital requirements. Numerous loan types are available through IIFL Finance, including personal, business, and home loans.
All loan products offer attractive, affordable interest rates and cost-effective options for borrowers. The loan repayment structure is flexible, and borrowers can choose various repayment options. Apply now!
Frequently Asked Questions
Q1. What is the official website of CIBIL?
Ans. CIBIL's official website is https://www.cibil.com/.
Q2. Can you check your credit score if you do not have a PAN card?
Ans. PAN cards are used to record your significant financial transactions. Unless you have a PAN card, you may not have taken any credit. Credit bureaus cannot determine your credit score if that is the case.