Beware Of Instant Loan Apps! Here Are Some Safety Tips
Instant loan apps may seem like a convenient solution for your financial needs, but they can also pose risks to your personal information and finances. Read on for safety tips to protect yourself when using these apps!
5 Mar,2023
12:33 IST
2164 Views
593 Likes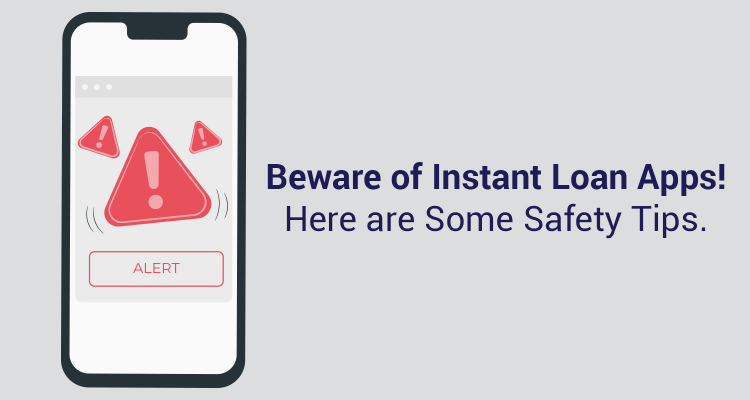 In today's fast-paced world, convenience is key. With the rise of technology, you can complete loan applications with a few taps on your smartphone. However, not all instant loan apps are created equal. While they may seem like a quick solution to your financial problems, they can also be a gateway to financial scams and identity theft.
Before you take out a quick loan through an instant loan app, you must verify the app authenticity. Here are the ways to identify scammy apps and some safety tips to protect yourself from loan app scams.
Ways To Identify A Safe Instant Loan App
Here are five ways to ensure that you're using a safe and trustworthy instant loan app.
1. Ensure The App or Its Company Has An Offline Address And A Website.
When considering using an instant loan app, verify its authenticity to ensure the safety of your personal information and funds. A key factor to look out for is the physical address of the app and the lender. It may be a red flag if you cannot find the lender at a registered location.
Legitimate lenders typically have their name, phone number, physical address, and email address listed on their websites for transparency.
Additionally, it's advisable to research the parent company of the loan app and ensure it has a credible official website linked to the app. If the loan app does not have a website, it might be an instant loan app scam.
2. Check If Your Instant Lender or Partner Company Is Registered With RBI.
It is crucial to check the lender's connection with the Reserve Bank of India (RBI) to ensure their authenticity. A trustworthy loan app and its company will typically partner with Non-Banking Financial Companies (NBFCs) and financial institutions registered with the RBI to provide loans. By being both digitally savvy and financially informed, you can ensure that you only borrow from RBI-registered sources and avoid any potential scams.
3. Check Out The Reviews and Ratings Of Your Lender Online.
If you plan to take a loan from an app, check its reviews and ratings beforehand. It will help you gauge the lender's credibility and the quality of its services. You can find these reviews on websites like Google Play Store or other review channels, where past borrowers of the lender have shared their experiences. Paying attention to these reviews can give you a good idea of the lender's functioning and if it has any history of unethical behaviour.
4. Check Your Lender's Access To Your Personal Data.
When applying for a loan through a lending app, some may request access to your contacts and gallery for authenticity and underwriting purposes. Reliable lenders will keep this information confidential and not share it with third parties. However, this might not be true for loan app scams.
Thanks to advancements in fintech, lenders can underwrite loans without accessing your personal information by following established collection processes. It eliminates the risk of fraudulent activity.
Before sharing your information, it's crucial to thoroughly research the lender and ensure they perform regular Information Security Audits and monitor their AI technology to keep your data secure.
5. Is Your Lender's Website Secured?
When applying for a loan through a digital lender, ensure that your personal information is secure. One of the easiest ways to check this is by looking for a lock icon on the pages of the lender's website. The lock icon indicates that the website uses encryption to protect your data.
In addition, websites with secure URLs start with "https://"; it indicates the use of a secure protocol that helps to prevent identity theft.
Be cautious when entering personal information online, as identity theft and other types of fraud are becoming increasingly common. By verifying that your lender's website is secure, you can help protect your personal information and ensure that your loan application process is safe and secure.
Apply For A Personal Loan With IIFL Finance.
Our
personal loan
offers unbeatable interest rates, making it one of the most affordable options in the market. The application process is a breeze, with approval in just few minutes and minimal documentation requirements. Empower your financial future with our flexible EMI options, ensuring better liquidity and effortless attainment of your personal goals. Don't miss out on this opportunity to secure a hassle-free personal loan. Apply with IIFL Finance today!
Frequently Asked Questions
Q1. What are instant loan apps, and why is it important to be cautious while using them?
Ans. Instant loan apps are mobile applications that provide loans quickly and easily to users. However, there have been cases of loan scams and data theft with such apps, making it necessary to be cautious while using these apps.
Q2. What are the safety tips to consider before using an instant loan app?
Ans. When considering an instant loan app, check for a physical address and contact information, research the parent company, look up reviews and ratings, avoid apps that ask for unnecessary access to personal information, and look for a secure website.