How To Manage Work From Home
How To Manage Work From Home
27 Apr,2020
05:30 IST
337 Views
805 Likes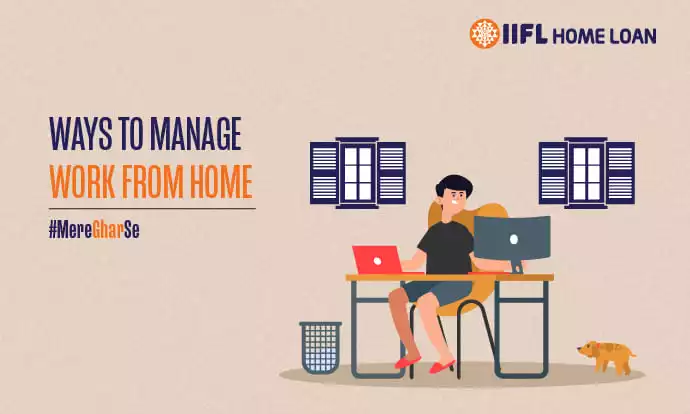 The global lockdown brought by the COVID-19 outbreak has forced many changes among the people world over. Unless you have been working as a freelancer always when was the last time you got to work from for more than a month or maybe even for a week. Well, with the risk of the epidemic spreading fast, the government and the office around the world adopted a new way of working, i.e. working from home.
At first, you were probably happy knowing that you would be safe in your home sweet home and were even excited to spend some time with your loved ones. But, over time, you may have already found yourself undermotivated and even secretly wishing when I can get back to my office desk?
So, here is a little help that you may or may not have been looking for. Listed below are a few tips to help you manage your work from home better and find that lost motivation back:
Set up a morning routine
It may seem tempting to snooze of that alarm and have that extra 15-minutes of sleeping when no one is expecting you to be on time at the office. But, a productive day starts with a productive morning, so it is best to start your day as if you were going to the office. Here are a few things you can do as a morning routine to kick start your day on a bright note:
Make your own bed
Workout for at least 20-30 minutes or do yoga.
Read/listen to the news
Have a healthy breakfast
Take a good shower
Make sure that you follow this routine every day. This will make you feel excited and give you time before you start working.
Have a dedicated workspace
Make sure to set up a dedicated workspace in your home with necessary items that you may need. If possible, you can arrange your workspace to resemble your regular office desk. This way, it will be easier for you to focus as the setting will be familiar to you.
Accept distractions
Let us be honest. Your home can never be the same as your office and vice-versa. You are bound to have some distraction, the doorbell, the kids running into your room, the TV noise, social media, your partner, etc. But, you must accept these distractions if they don't take your whole day. Try to adapt to the new working style. Taking a regular but quick break can help you give enough attention to your children and other work without compromising on your work.
Figure out the most productive hours
One of the most significant benefits of working from home is that you can plan your daily tasks any way you deem fit. If you feel, you are most productive in the morning, try to align the most critical tasks in the morning. This will help you be on top of the deliverables, and yet you can enjoy your time with family members. Once you start planning your schedule, you will soon find that you can work efficiently.
Stay connected to co-workers.
Being home does not mean you must cut off ties with your teammates and co-workers. There are plenty of ways to stay in touch with your friends virtually. So, try to connect with your co-workers every day for a few minutes, this will help you stay updated with the latest happenings, also help you know if everyone is on the same page to accomplish the goal.
If you have any issues with work, your co-workers can guide you through the situation. But, don't let the virtual meetings all about work, it is okay to connect with your friends to have a friendly personal chat during the tea break or lunch break. This way, you will have the fresh conversation you need and be motivated.
Adapting to the new working style can be challenging, but it is vital to stay healthy and productive to overcome the challenge.