Five Things to Know Before Home Buying
Buying a home is crucial stage in your life and there are a few things that you should keep in mind before home buying.
23 Jan,2018
05:45 IST
28 Views
241 Likes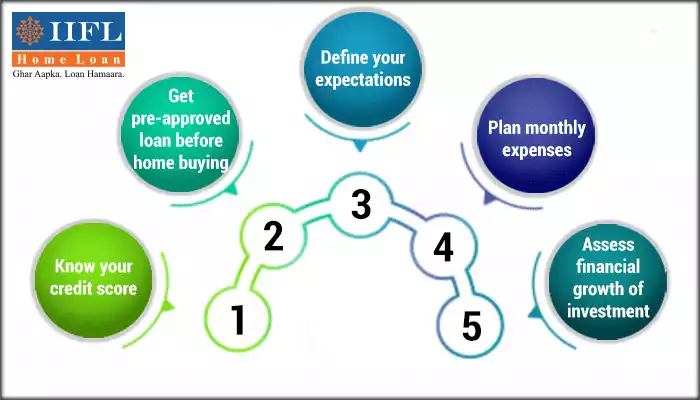 Buying a home is a long and tiring process. Considering its prominent place in the 'food, clothing and shelter' trio, purchasing a house is one of the most cherished dreams of an individual. Most people would spend their entire life savings just to have a place they can call home. But, however emotional it may be, it is a huge financial leap and you need to think well before taking it.
Here are 5 things that you definitely need to know before you buy a house:
First and foremost is to know your credit score. Buying a home is a costly affair and chances are that you might need external financing in the form of a home loan. First thing that the lenders would look at is your credit score. It not only decides how much loan you are eligible for but also the terms and interest rate would it be. Having a good credit score can save you a huge sum while buying your home. Depending on which range your credit score is, you can negotiate with your broker accordingly.
| | |
| --- | --- |
| Credit Score | How is it? |
| 300-550 | 300-550 |
| 551-650 | Bad |
| 651-700 | Fair |
| 701-750 | Good |
| 751 and above | Excellent |


Get pre-approved before buying a home:



Once you are sure about your financial situation, you can get yourself 'pre-approved' by your lender. This assures your broker or agent or seller that you can purchase the property right away without much delay of paperwork or other financing formalities. This becomes extremely helpful if the property you choose has multiple buyers interested in it and being pre-approved gives you an added advantage over them.


Define your expectations:



Not many people in today's times buy a home to sell it immediately. Especially if it is their first home. So if you are buying a place, have a list of expectations written down. This will not only help you narrow your house-hunting but also get you deals that are just ideal for you. Expectations with respect to surroundings, locality, amenities, transportation, access to leisure, entertainment and essential services are some of the things that you need to consider. Share this with your real estate agent so that they refer you the homes that fit these expectations and budget too.


Know how much you will spend on a monthly basis:



Your monthly payment is also something that you need to consider right at the start. This would include a part of your loan principal and interest amount, property tax, home insurance, tax documents, and other legal paperwork. It would also include things like your water bill, electricity bill, cable bill, internet expenses and gas and other general maintenance costs that you might incur every month. Factor in all these charges and see if it is well within your budget.


Check for the financial growth of your investment:



Buying a home in a locality that is gaining popularity would ensure that the value of your home is appreciated over time. Check with your agent as well as the locals for the prevailing prices, upcoming developments and scope of value appreciation in the future. This would surely prove to be a blessing in disguise in the long run when you wish to sell and move to another place.