Five Sustainable Changes You Make In Your Home While Homebound
Five Sustainable Changes You Make In Your Home While Homebound
27 Apr,2020
05:30 IST
121 Views
642 Likes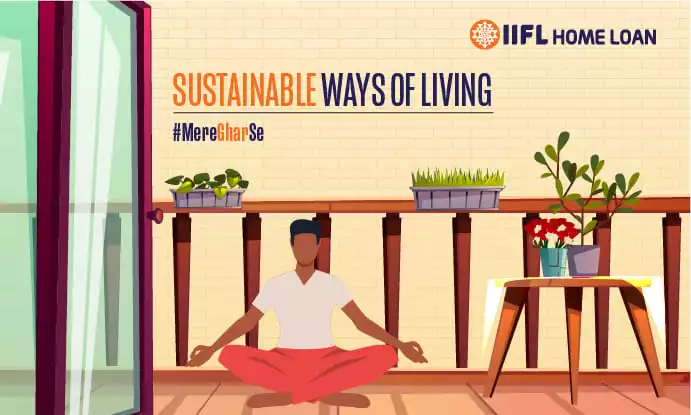 Currently, the world is witnessing one of the most terrible virus outbreaks humanity has ever seen before. The COVID-19 Pandemic has got much of the world to shut down, and for many it has been an ongoing challenge to cope with the situation. But, while we all are cautious, let us not stop being hopeful. The world has seen great wars, epidemics, and other adversities, but, humans have always been on the winning side, and let us hope and believe we shall overcome the current crisis too.
Keeping aside all the challenges and the everyday problems, let us make the best use of the lockdown, and utilise the TIME, which otherwise we are all racing against and do something productive. While we are all homebound, why not combat it with indulging in activities that we dismissed before for lack of time and bring about sustainable changes in yourself.
Educate Yourself
If reading the daily headlines and catching up on the latest update on the COVID-19 has become a routine, it is time to learn something more exciting and better. While you are homebound and you have plenty of time in hand, you can educate yourself about other pressing aspects of the crisis, like how your daily lifestyle contributes to the problem. You can further research and educate yourself about how you can help improve the situation and where your efforts will have a maximum impact in bringing about a sustainable change.
Grow your food
With most restaurants and cafés closed for a considerable amount of time, and with massive delays in online deliveries, it is the best time to choose your food wisely. You can try to grow your own food in your garden, or even on a window ledge. You can easily grow daily essentials like tomatoes, chillies, curry leaves, okra, carrots, etc. All you need is just some seeds, soil, sun, and water. So, while you are homebound, why not sow the seeds for your future food.
Cut down on waster wastage.
Now that you are home, you may feel tempted to take a leisurely shower and stay longer in the bath. But, think about the amount of water you may be wasting. Research suggests that Indian households waste nearly 125 million litres of water every day. So, taking an efficient bath can help reduce water wastage.
Walk it out
While the government has imposed a ban on vehicle usage (unless it is for emergency or essential purposes), you can comply with the lockdown rules and walk it out to the nearby supermarket or the grocery store instead of driving.
Walking to the store can also help you get the required workout to keep you healthy and your immunity system ticking to fight off the virus. You can develop and follow this healthy habit long after the lockdown is lifted for a healthier and happier life.
Indulge in hobbies
Now that you are at home, and have plenty of time to spare, why not rekindle your passion and indulge in activities that you love. Be it painting, cooking, gardening, or writing. Dig out all the craft materials, and cookbook, and let your creative juices flow free.
If you don't do it now, you may never do it.