Delivering the Paris Agreement: The Role of Housing Sector in India
Delivering the Paris Agreement: The Role of Housing Sector in India
16 Oct,2019
07:15 IST
56 Views
704 Likes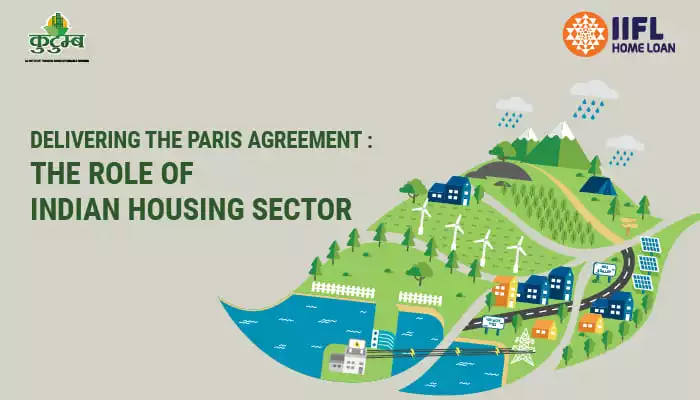 Delivering the Paris Agreement: The Role of Housing Sector in India
The Paris Agreement is an international treaty sponsored by United Nations Framework Convention on Climate Change (UNFCCC) that seeks to limit the global temperature increases in the 21st century to below 2 degrees Celsius and encourage initiatives that bring the increase down to 1.5 degrees Celsius or lower. The agreement requires the 195 signatory countries including India to prepare, communicate and maintain successive nationally determined contributions (NDCs)- subjected to revision every five years. India has formulated the following major targets to reduce its climate change impact: a) Increasing the share of non-fossil fuels to 40% of the total electricity generation capacity, b) Reducing the emission intensity of the economy by 33 to 35% by 2030 from 2005 level, and c) Creating an additional carbon sink of 2.5 -3 billion tonnes of CO2 equivalent through additional forest and tree cover. [1] The implementation of the Paris Agreement is imperative for the achievement of the Sustainable Development Goals (SDGs), and provides a blueprint for climate actions that will reduce emissions and directly contributes towards attaining seven SDGs- Affordable and clean energy (SDG 7), Sustainable cities and communities (SDG 11), Responsible consumption and production (SDG 12), Climate Action (SDG 13), Life below water (SDG 14), Life on land (SDG 15), and Partnerships for the goals (SDG 17).
For a developing country like India, construction and its allied sectors are major contributors to greenhouse gas emissions. The building sector alone accounts for roughly one-third of global emissions and the operation of buildings accounts for 28% of energy-related CO2 emissions, making it among the largest contributors to climate change. [2] Despite significant energy efficiency improvements in the appliances, the energy-related emissions from the building sector still remain high. This connotes the exigency to transform all new and existing buildings into green structures. As highlighted under Zero Carbon Buildings for All Initiative, all buildings must be net-zero carbon by 2050 to meet the goals of the Paris Agreement, but fewer than 1% of buildings are today. Therefore, green and sustainable housing is instrumental in achieving Sustainable Development Goals and Nationally Determined Contributions made under the Paris Agreement.
IIFL Home Finance has launched Green Value Partner Initiative to exhort the developers in the affordable housing sector to construct green buildings by providing them no-cost consultation and end-to-end support on green building methodologies. We have also established an exclusive platform - Kutumb that brings together industry experts and housing developers to create a sustainable infrastructure and a know-how model of Green Buildings. We strive to minimize our environmental footprint throughout our loan portfolio and operations by conducting proper due diligence and environmental audits, particularly in the areas where there is a high risk to the environment. Such measures succor in reducing the impact of climate change and effectuating a mechanism to achieve Sustainable Development Goals.
REFERENCES:
INDIA'S INTENDED NATIONALLY DETERMINED CONTRIBUTION: WORKING TOWARDS CLIMATE JUSTICE. (2015). [online] Available at: https://bit.ly/33BXd5s
Developing and industrialized countries commit to decarbonize their building sector to achieve massive CO2 reductions. (2019). Available at: https://bit.ly/2VM12SI
Written By:
Tapasya Sharma
Research Associate, IIFL Home Finance Limited
Member of International Society of Sustainability Professionals
Masters in Environmental Management and Sustainable Development