Decor Ideas To Make Your Home Truly Swadeshi
Being Swadeshi begins at home and there's no better way to implement below mentioned home decor ideas to make your home look truly swadeshi.
1 Oct,2018
06:45 IST
98 Views
276 Likes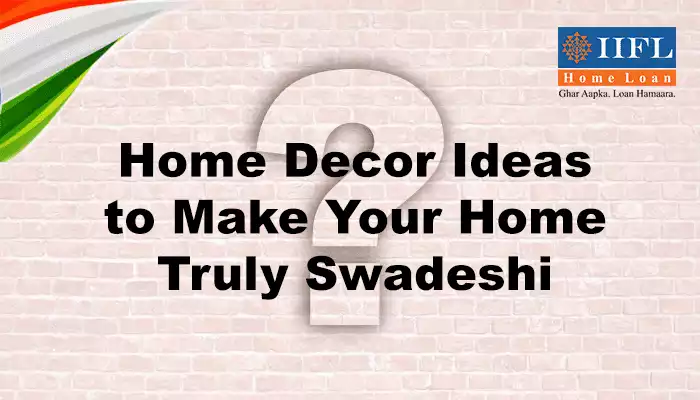 Swadeshi is a word that took center stage during Indian nationalist movement. During Independence Day, Republic Day and 2nd October-Gandhi Jayanti, Indians do not shy away from draping themselves in Swadeshi outfits. Being Swadeshi and celebrating independence begins at home and there's no better way to implement some decor ideas that make your home look truly swadeshi. Below are swadeshi home decor ideas for 2nd October in the country.
Khadi:
Khadi and Charkha, two symbols that became synonymous with Indian swadeshi movement. The rough texture, natural color and long-life make Khadi a great material to be used in curtains, bedsheets, table runners and pillow covers. A blend of tri colored curtains make great decor option to give your room a national flavor.
Jute:
Jute gained mainstream popularity in Bengal region during the independence movement. Jute, an indigenous material readily available in India. Being biodegradable and low cost, jute is great material to make carpets and furnishings.
Bamboo:
Bamboo is used to make furniture in rural and semi-urban India. Though it is light weight, charpoy (bed), chair and table made of bamboo can hold heavy weight. Bamboo furniture reduces the cost spent on iron and plastic furniture and gives your home a traditional appearance of 'Chaupal'. You can spend evening at such set-up while enjoying some hot tea.
Terracotta:
Instead of going for modern materials such as plastic, metals etc., terracotta offers great option for artefacts and home decor products. Clay artefacts give a unique Indian touch to your home and are also environment friendly. Utensils, home tiles, lamps and diyas, made of earthen clay will give that traditional Indian flavor to your kitchen and living room.
For years, such indigenous materials have been used for decorating home in India. The above mentioned materials not only remind us of our country but also serve a specific purpose without affecting the environment.