Decade-Old Commercial Vehicles to be Taken off Indian Roads
In order to reduce air pollution in most Indian cities, and also reduce the steel scrap import burden this is a necessary step.
10 Feb,2017
00:00 IST
54 Views
1341 Likes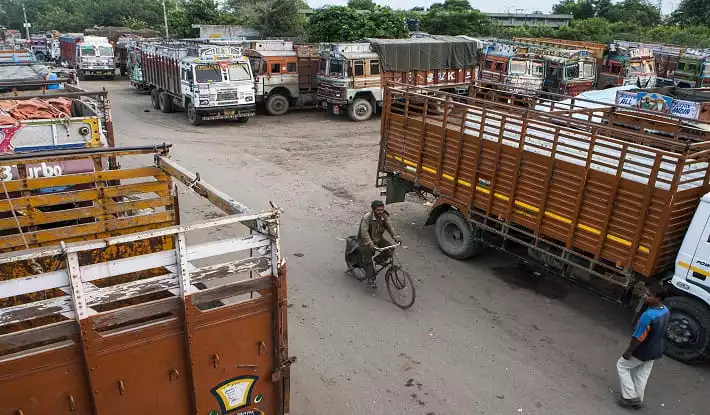 In metro cities across the country, the problem of pollution is one that needs to be solved. In order to do this, the cities of Mumbai, Bengaluru, and Delhi, have initiated a new Voluntary Vehicle Fleet Modernisation Programme (V-VMP). This program is important in not only reducing the amount of air pollution in most Indian cities but will also reduce the steel scrap import burden. According to the V-VMP, all commercial vehicles that have been in service for more than 10 years are to be banned, and those owners who voluntarily give up their commercial vehicles and purchase newer, BS-IV compliant vehicles will receive benefits worth up to 12% of the value of the new vehicle.
Monitoring the Vehicles
Currently, according to Central Motor Vehicles Rules, all transport vehicles (trucks, buses, taxis, autos, mini buses, vans, and tankers) are required to renew their fitness certificate two years from the date of purchase, and then every year after that. Unfortunately, the yearly renewal process has led to some amount of undesirable activities, and so the transport ministers of Mizoram, Odisha, Bihar, Andhra Pradesh, Karnataka, and Goa have recommended a new process. They have proposed that every state should install an automated Inspection and Certification Centre for vehicle inspection.
Curbing Pollution
According to an analysis done on the commercial vehicle segment, it was found that although Medium & Heavy Commercial Vehicles (MHCVs) constitute only 2.5% of the total fleet, they contribute to about 60% of the pollution. It was also found that only 15% of the fleet is made up of vehicles that are over 10 years of age and pre-BS I compliant, but these vehicles cause about 10 times more pollution than newer vehicles. The V-VMP for trucks and buses will help reduce carbon monoxide emissions by 17%, hydrocarbon and nitrogen oxide emissions will be reduced by 18%, and particulate matter emissions will be reduced by 24%.
Reducing the Import Burden
Apart from being good for the environment and energy efficient, the V-VMP will also help generate steel scrap worth around Rs 11,500 crore every year, by setting up organized shredding centers. By generating the steel scrap domestically, India's import burden will be reduced, and the foreign-exchange reserves will be improved. It is expected that about 50% of the steel scrap generated will come from MHCVs.
Incentivising the Change
In order to urge more and more people to take advantage of the V-VMP, the government has also decided to offer incentives to those who decide to scrap their old commercial vehicles and purchase new ones. The vehicle owners can gain scrap value for the old vehicle, a partial excise duty exemption, and a special discount from the automobile manufacturer. Collectively, the exemptions and discounts are worth around 8% to 12% of the value of the new vehicle. However, to be able to avail of these incentives, the new vehicle needs to be BS-IV compliant.
Boosting Automobile Sales
It is projected that the V-VMP will help boost the sales of automobile manufacturers in the country. This will lead to a higher production capacity utilization, and the manufacturers are showing their support for the government's initiative by providing special discounts to those customers who are purchasing new vehicles under the V-VMP scheme. This is projected to boost the industry turnover to a whopping Rs 20 lakh crore within the next 5 years.
The Way Forward
Currently, the V-VMP is in a fledgling stage and has only been rolled out in a few cities, but the Government is hopeful that by April 2017, it will be rolled out across the country. The program will go a long way in reducing the amount of pollution generated by vehicles, and in Delhi especially, there are proposals to get all 10-year old diesel vehicles off the roads, to further alleviate the pollution problem. In order to make the V-VMP more popular, the Ministry of Finance might approve a 50% excise duty relief for new vehicles bought under the scheme.
Apart from the V-VMP which has been implemented specifically to curb the rising pollution, the Government is working on a number of other reforms with regard to automobile transportation. They are looking at increasing the periodicity for renewal of driving licenses from 5 years to 10 years, after the age of 50, and allowing licenses to be issued up to the age of 70. They also want to delegate the power of registering new vehicles to a few hand-picked dealers who will keep records of all the vehicles and their owners and will also be equipped to issue standardized registration plates.
Road fatalities are another issue that the Government is looking into. There were as many as 1.46 lakh road fatalities across India in the year 2015. India has committed to reducing the number of road accidents and fatalities by 50% by the year 2020, but until now, no clear cut agenda has been put in place that outlines how this will be achieved.
India Infoline Finance Limited (IIFL) is an NBFC and is a reputed name when it comes to financial solutions such as mortgage loans, commercial vehicle loans, gold loans, capital market finance, healthcare finance, and SME finance. To learn more about IIFL Commercial Vehicle Loans, click here.