What Does Your Credit Score Reveal About You?
Your credit score says more about how you manage money than about how much money you have. Read to know more here!
15 Dec,2022
10:09 IST
13 Views
6 Likes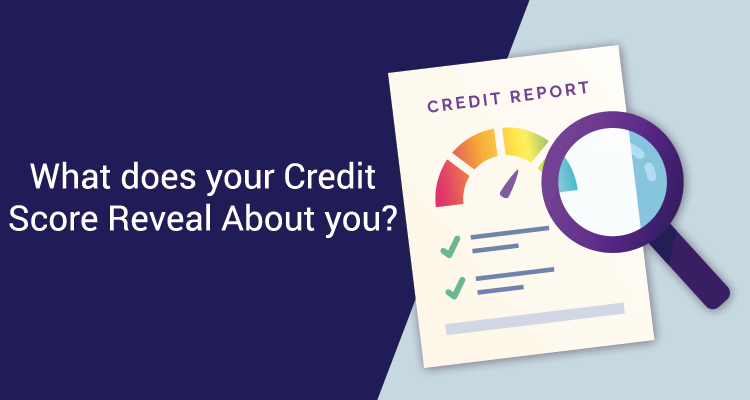 Credit scores are more than just numbers. They are a testament to your repayment reliability and debt management abilities. Like your high school grades, your credit score will spark judgment.
Your credit score is a comparison tool to evaluate you against other candidates for loans, rent, or even a new dating partner. But what does your credit score check–which ranges from 300 to 900 for CIBIL bureau–reveal about you?
Factors Affecting CIBIL Score
CIBIL assigns you a score between 300 and 900 based on several factors, including the following.
• EMI or credit card repayment timeliness
• Your credit utilisation ratio, based on your credit limit or loan versus your income
• Your recent credit applications, including rejections and approvals
Credit Score - What Does It Tell You About You
Here is an overview of what your
credit report
tells you about your financial habits and what you can do to improve
your credit score.
1. Credit Score: 300 - 560 (the novice)
Usually, lenders disapprove your loan or credit application with a credit score in this range. This score may result from not taking any credit in the past, or you have recently begun earning and taking on debt for the first time. This score may also result from making too many requests for credit at the beginning of your career.
How to improve your credit score?
If you want to increase your score, borrow a small loan without collateral and repay it with regular EMIs. Don't pay off the minimum balance on your credit card, but pay off more than that if you stay within your credit limit.
Regularly checking your credit scores and correcting any discrepancies as soon as possible is also good practice.
2. Credit Score: 561 - 650 (the ambitious borrower)
Credit scores in this range could lead to loans with excessive interest rates since lenders consider you a credit risk. Additionally, you may not receive any pre-approval offers for credit cards or loans. This credit score indicates that you have never been responsible or timely with your credit. Multiple rejections to obtain a loan or too many inquiries without seeking proper financial planning or preparation are evident in your credit history.
How to improve your credit score
Plan your expenses better and pay your debts in advance to step into a safe zone. Use the eligibility calculator before applying to ensure you qualify for a loan. You should also avoid applying for credit unnecessarily.
If you have several credit cards, select two or three with better rewards and pay off their total balance with care without accruing additional interest. You can move up the credit score ladder with some financial planning.
3. Credit Score: 651 - 749 (the moderately disciplined spender)
In this range, lenders will almost always consider your credit score trustworthy and creditworthy. A score of this type indicates that you have built your credit history with a balance of unsecured and secured debt.
The interest rate on loans or credit is decent at this stage, but the credit limit may be small. Additionally, you may get pre-approved offers for credit cards and loans but plan your finances carefully before jumping on that bandwagon.
How to improve your credit score
You will likely see increased faith from your creditors if you adhere to the 30% credit usage rule. As a result, you increased your credit limit and got even better interest rates. Before using new credit cards, use your older cards wisely and pay your EMIs regularly. Find a loan option that allows you to manage our cash flow better, such as a Flexi loan.
4. Credit Score: 750+ (the dependable finance whiz)
Someone with a 750 or higher credit score must have mastered credit management and utilisation. When you have a credit rating this high, you can give out financial advice to your peers.
Your loan applications are easily approved because you do not pose a credit risk. In addition, lenders offer you the most competitive interest rates. Pre-approval offers will also come from credit card issuers and lenders but choose each proposal carefully to maintain your CIBIL score.
How to maintain your credit score
Getting to the top is easy. Staying there is the challenge. Consequently, don't take out a credit loan just because an institution offers it to you. Instead, borrow only the amount you need. Maintain separate savings for repayment; an emergency or unforeseen income problem can cause a dip in your score.
Apply For A Loan With IIFL Finance
IIFL Finance is here to help you achieve your personal or business goals. For all your financial needs, we offer gold loans,
business loans
, personal loans, and more. Our loans can be customised to meet your capital requirements with a hassle-free application process. Get started now!
Frequently Asked Questions
Q1. What does a credit score tell you about a person?
Ans. A credit score is a numerical evaluation of a person's ability to repay a debt. It ranges from 300 to 900. Higher credit scores indicate that borrowers will make on-time payments and are less likely to default.
Q2. What is a good credit score?
Ans. An ideal CIBIL Score is 700 to 900, meaning the borrower can get a higher loan at a low-interest rate.